Introducing Image Slider for Divi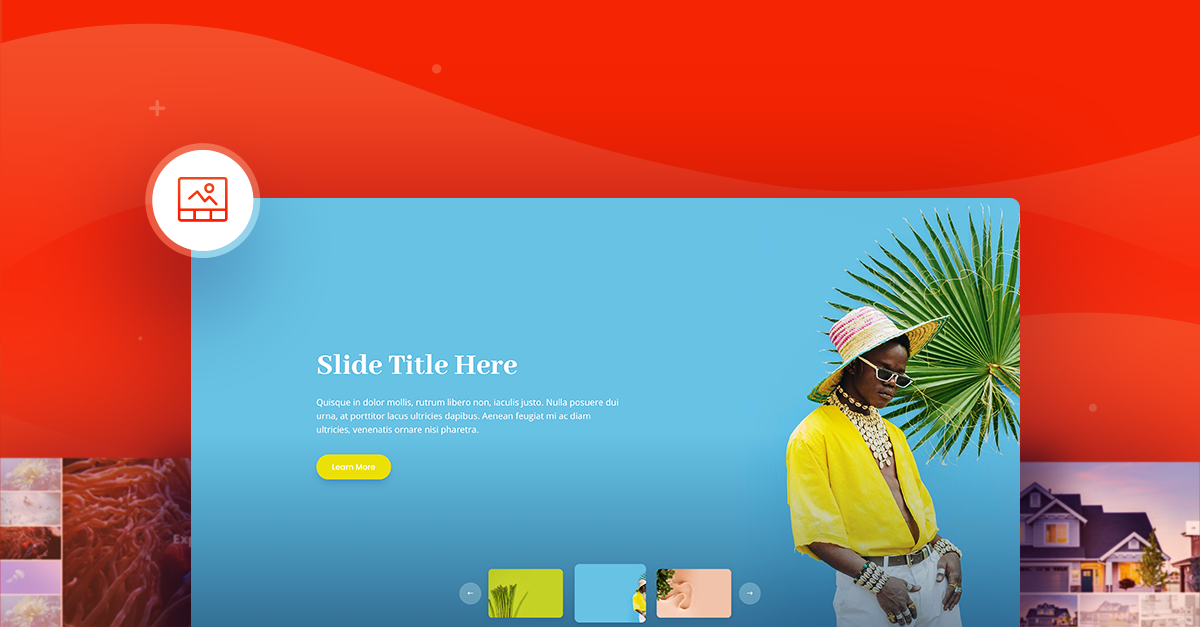 Today we are introducing a brand new module we have added to the Divi Pixel plugin. The Image Slider module will help you create amazing galleries with thumbnails navigation in no time!
Our team is constantly working on new modules. In the previous update, the long-awaited FAQ module with structured data was added. In this update, we are adding another powerful and highly customizable module that will help you to build amazing image galleries with content, custom animations, navigations and more! This module will be useful for image-rich websites where displaying image galleries is crucial.
In this release we have not only added a new module. We have also fixed multiple minor issues and made few significant improvements which you are going to love! In this article, I'd like to tell you a few words about the new module and all the other tweaks we have made.
Introducing the Divi Pixel Image Slider
Displaying a photo gallery can sometimes be critical to website owners. Especially when we offer services such as photography, garden care, interior design and many others, in which showing the website visitors the finished and final results of our work is not only very necessary, but can also help in converting the website visitor into a customer.
This new module is just created to allow you to display interactive galleries on Divi pages, which actually offers the Divi Slider module, but its functions are very limited. Our team was determined to create a module that would not only display galleries in a more refined and interactive way. We wanted this module to be also used to create full-width sliders, the so-called hero sliders. And we did it!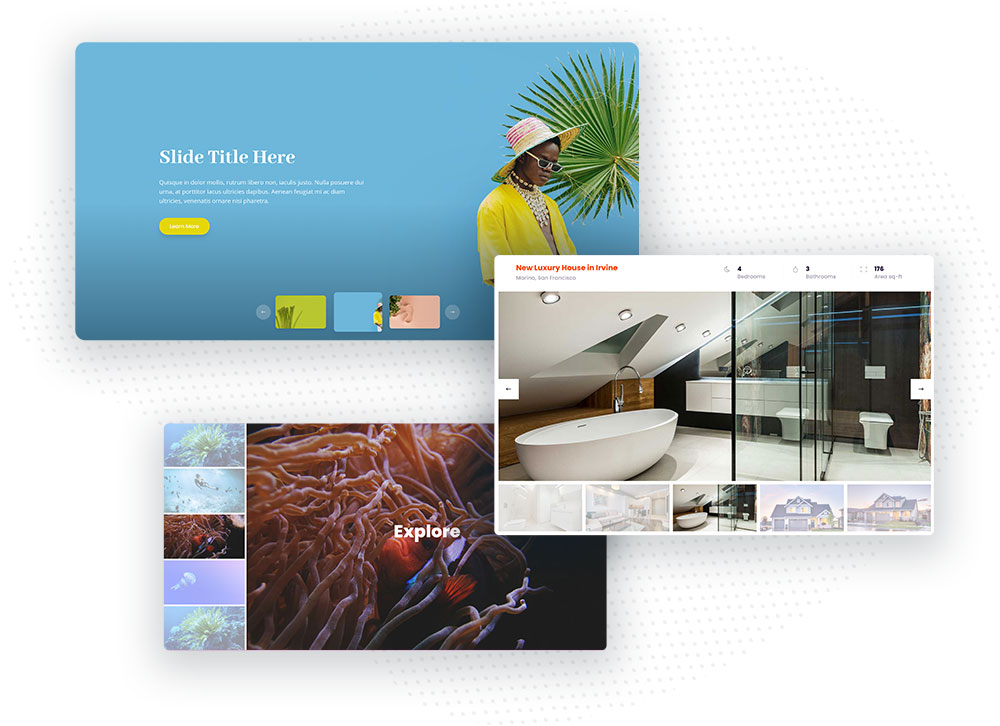 Highly customizable Image Slider module for Divi
This new Divi Pixel module is strawberry on the cake. We have used a swiper.js library and added some other custom settings to make it even more powerful. This module offers huge possibilities for customization. We can not only add images to our slider. The Divi Pixel Image Slider also offers content settings. We can add slide title, description and button and it is these settings that make this module can be used to build full-width sliders with links.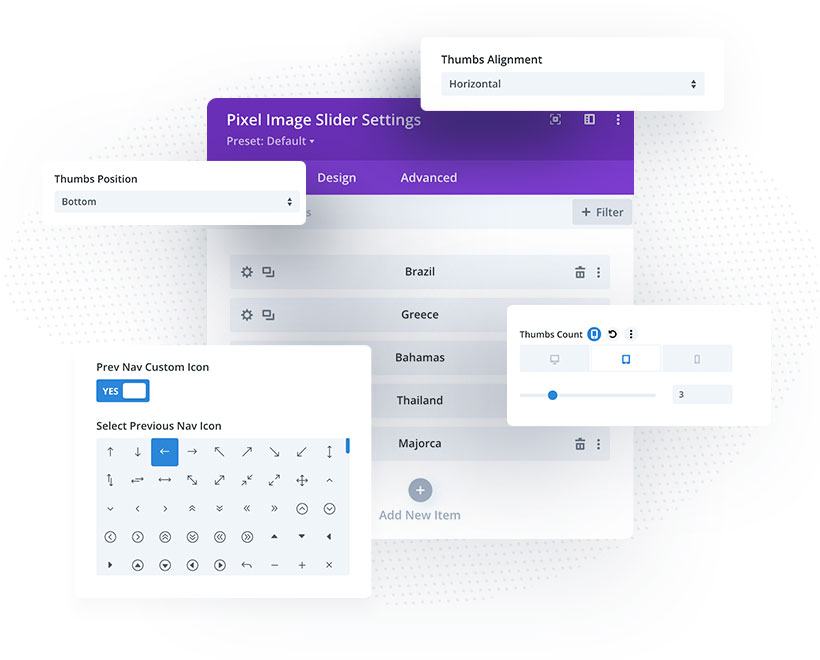 Another very important feature of this module is the ability to display navigation in the form of thumbnails. We can define number of thumbnails displayed, thumbnails size and alignment. We can also enable main image and thumbnails navigation which is of course also customizable.
Custom animations that are available for the content and the main image will make our slider unique. There are 19 animations for the content and 4 for the main slider.
Other Tweaks & Improvements
In this update, we have added a few new features and here I'd like to mention some of them. The most significant changes was made to the Divi Pixel Carousel, Price List and Masonry Gallery modules.
Several users signaled that the Price List module is not entirely responsive. In this update, we added options that will allow you to control how the Price List items are displayed on tablets and mobile devices. In addition, we also added a lightbox feature which allows you to display the menu image in the lightbox as well as add more photos.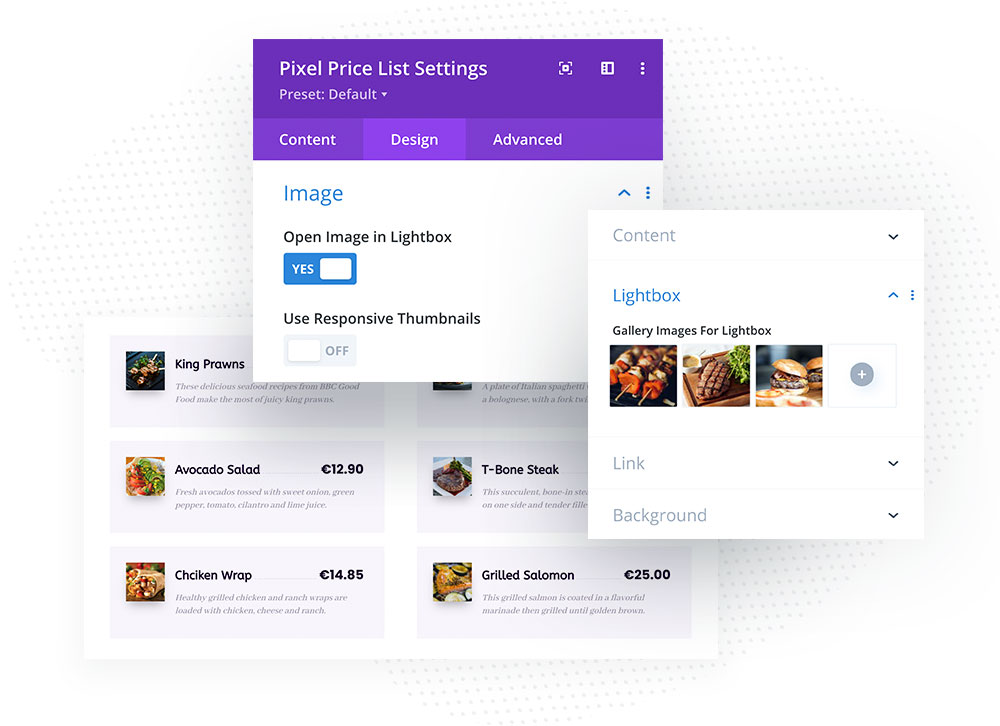 After recent Divi updates, we noticed that our Carousel module had a strange behavior of reloading the Divi Builder every time settings were changed. We have improved the module code and this problem has been fixed. In this update we also added a new lightbox option to the carousel image and option to slide reverse direction when autoplay function is turned on.
Masonry Gallery Image Custom URL
The last significant improvement I'd like to mention here is a new functionality added to the Masonry Gallery module. By default it opens images in the lightbox. In this release we have added an option to add a custom link to images, so after image is clicked, user will be redirected to the custom URL, which can be defined in the WordPress Media Library.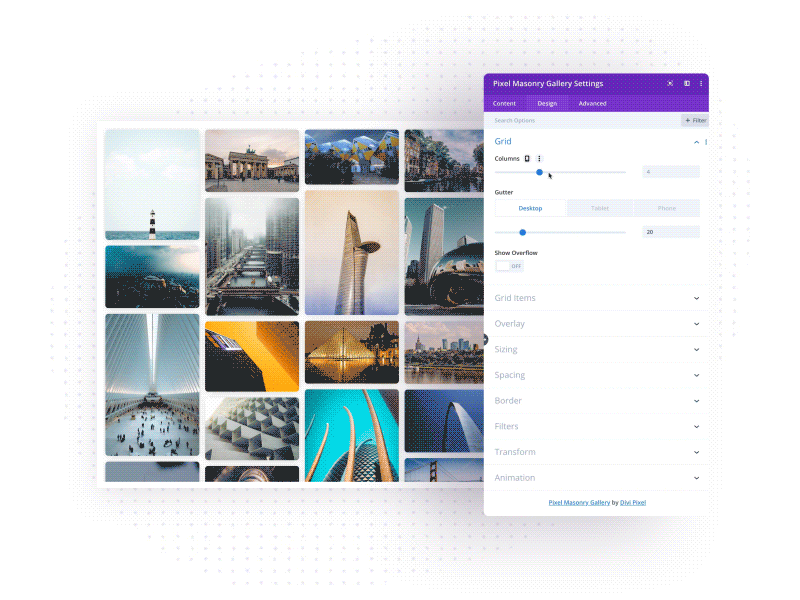 This is it! We hope you enjoy reading this article. There are more cool features and modules to come, so please make sure to sign up for our newsletter. If you haven't purchased the Divi Pixel plugin yet, now it's the right time.
Grab 10% discount with the coupon code DP10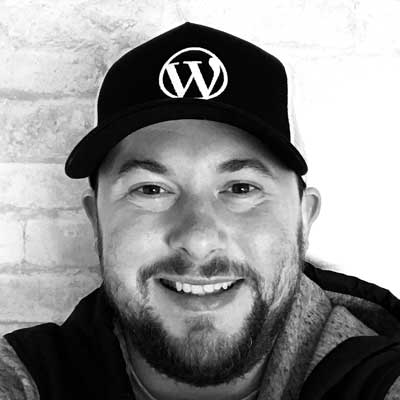 Maciej Ekstedt
Maciej is the co-founder of Divi Pixel. He is a self-made web designer and marketing expert, and he loves his job so much that he barely leaves the office. He transforms creative ideas into effective strategies for his company. Maciej is fascinated by the phenomenon of a megalopolis. He notices patterns and details which make up the whole thing, and he uses these skills in his work.
Enhance your Divi Theme with Custom Settings and New Modules. Start Creating Awesome Websites with the Divi Pixel
We offer a 14 Day Money Back Guarantee, so joining is Risk-Free!