Gravity Forms Styler for Divi
Gravity Forms provides a range of customization options out of the box, but with Divi Pixel's Gravity Forms Styler, users can take customization to the next level.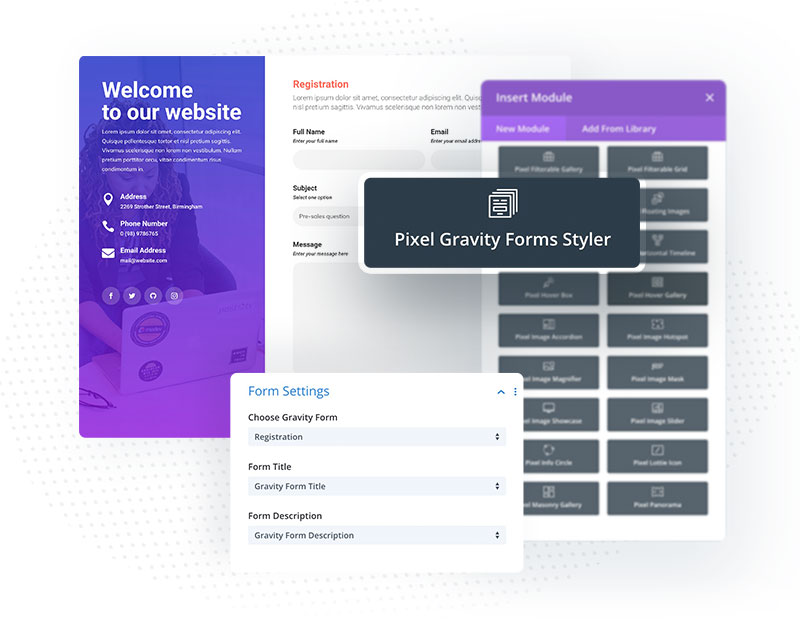 Seamless integration
Add Gravity Forms to Divi without using shortcodes
Effortlessly Embed Gravity Forms: With our streamlined integration, you can seamlessly add Gravity Forms to your Divi-powered website without the hassle of dealing with shortcodes. Simply select the Gravity Forms module from the Divi Builder and start customizing your forms with ease.
Easy to use
Experience flawless integration of Gravity Forms with Divi
With the Gravity Forms Styler, users can easily customize the appearance of their forms within the Divi builder, making it simple to achieve the desired look and feel for their website's forms. Design visually stunning forms that blend with the overall aesthetics of your Divi website, providing a consistent and polished look.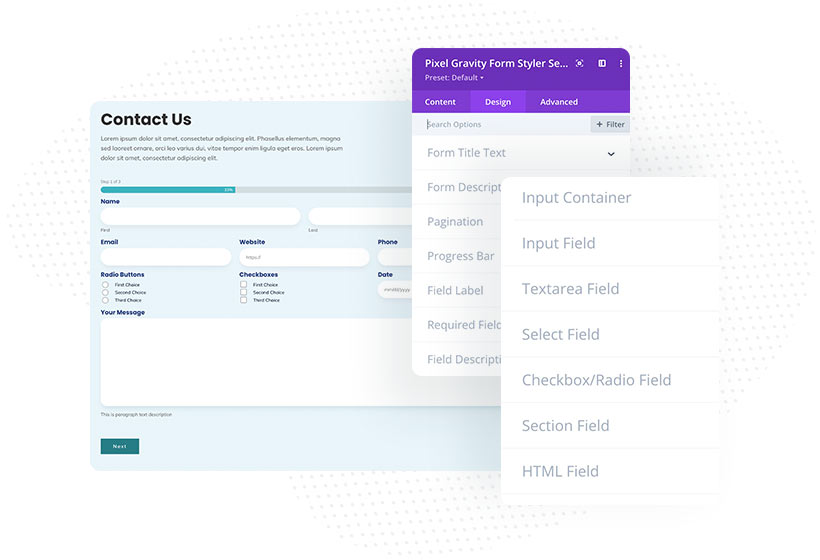 Style Gravity Forms like never before
Over 20 fields available for customization
Elevate your forms to new levels of visual appeal and cohesiveness, leaving a lasting impression on your website visitors. With the Divi Pixel Gravity Forms Styler, customization knows no bounds.
Textarea/Multi Select Field
Highly Customizable
Form Customization Made Effortless
Seamless Integration, Limitless Customization: Say goodbye to limitations and hello to unparalleled customization. The Gravity Forms Styler module seamlessly integrates with Divi, granting you the freedom to design and personalize your forms with ease.
Powerful Features
Empower Your Forms with Divi Pixel
Unlock a world of possibilities for your Divi forms. The Gravity Forms Styler module by Divi Pixel empowers you to customize and transform your forms, ensuring they align consistently with your website's design and branding.
Enhance your Divi Theme with Custom Settings and New Modules. Start Creating Awesome Websites with Divi Pixel
We offer a 14 Day Money Back Guarantee, so joining is Risk-Free!