Introducing Popup Maker for Divi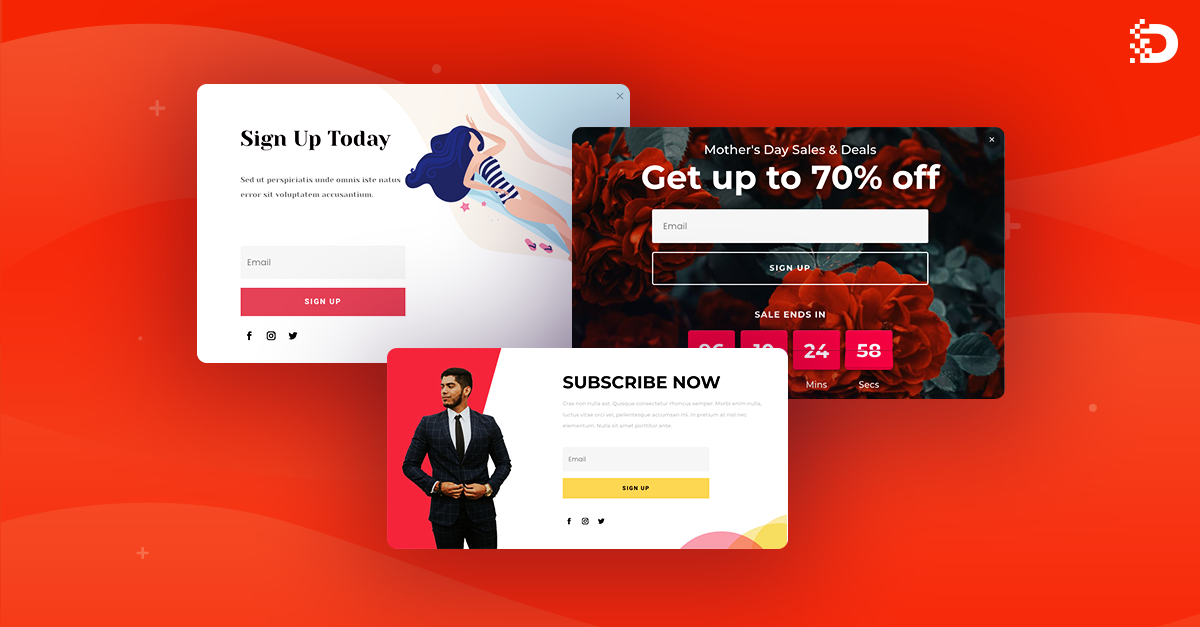 The feature we've all been waiting for is here! The most advanced, intuitive and easy to use Popup Maker for Divi is now available in the new version of the Divi Pixel plugin! 🤩
The Divi Pixel Popup Maker is probably one of the most anticipated features, that every web designer wants to have in his Divi toolbox. We started working on this new feature a long time ago, but in the meantime, there were stumbles that took time and motivation, but it was worth it. Thanks to a great team, and dedication, after many hours of coding and testing, we managed to build something truly unique that will make life easier for many of you.
The brand new Divi Pixel Popup Maker is a custom post type that allows you to create unlimited popups using the Divi Builder, and display them on your Divi website using the advanced triggering settings. It comes with a beautiful and intuitive user interface and powerful settings that will cover all your marketing needs. Adding popups to the Divi website has never been easier!
Meet the Most Powerful Popup Maker for Divi
The term "popup" refers to a graphical user interface display area that can appear as a window in different sizes and screen positions on a website's visual interface, typically without the site visitor's permission. They pop up on the screen so this is why they are called "popups."
This project lasted several months in total. We started in March 2021. Of course, there were breaks in the work, when we were releasing new modules, and fixed bugs. We've focused on Popup Maker completion in recent weeks, and we finally made it! Today we are extremely excited to introduce you to Divi Pixel Popup Maker – the most advanced and powerful tool for building slide-in banners, modal popups, promo bars and more!
Easy and Intuitive User Interface
It wasn't supposed to be just another popup maker, of which there are several on the market, and with which many users have problems, due to the way of use, which does not have to be simple and intuitive. Divi Pixel Popup Maker is a game-changer. We took it really seriously in creating this tool. We didn't want to make a tool that only works. It is not enough. We wanted to create a tool that works but is also simple and fun to use. So we designed a beautiful interface into which we threw all the options needed for effective operation.
The user panel is divided into 3 groups with advanced trigger and styling options. You can select triggering events, popup positions, animation, style the closing button and so much more!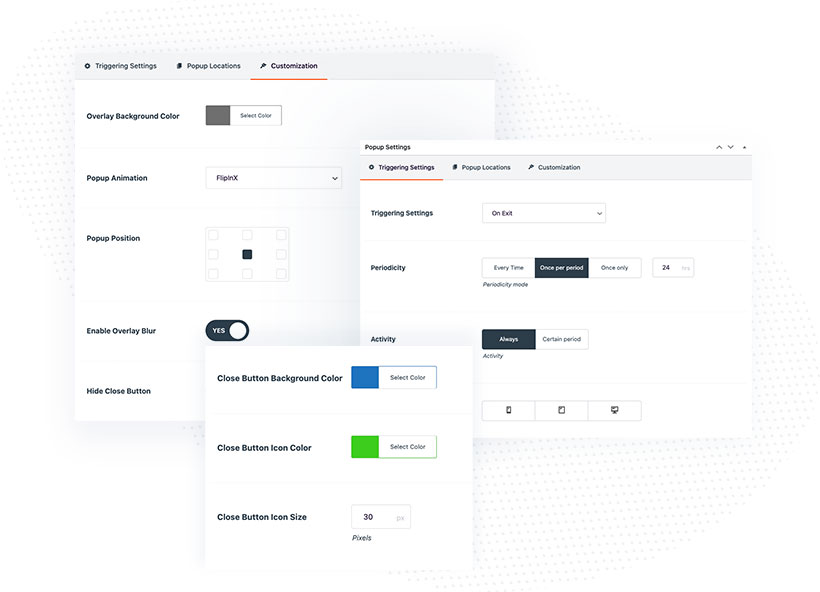 Advanced Triggering Settings
With advanced popup triggering options, we can determine exactly where and when the popup will open. We have 5 options to choose from. We can trigger the popup manually, with a CSS selector, or we can choose the Exit Intent, On Load, On Scroll or On Inactivity. This gives us great opportunities to encourage visitors to sign up for a mailing list, take advantage of a special offer, encourage them to contact us, or simply display a cookie notice.
Manual Trigger
This option allows us to use CSS Selector and trigger a popup on any element we want. Each popup create has a default CSS ID. We can also add a custom CSS Selector.
On Exit
Boost conversions with our Exit Intent popups to reach out to the user one last time before they leave your website.
On Load
Make the popup window show up when the page opens. You can set start and end delay, periodicity, and activity (Always/Certain Period).
On Scroll
Reach out to the user automatically after they have scrolled through part of your page. You can set the amount of scroll, periodicity and activity.
On Inactivity
Target shoppers with automated inactivity detection and convert them into subscribers. Define delay of inactivity after which a pop-up window will be opened.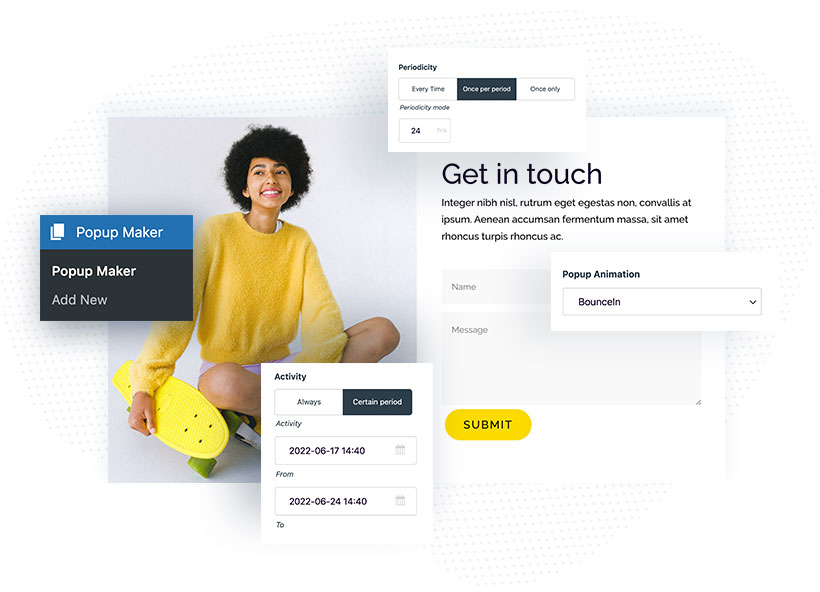 Popup Location and Customization
The Divi Pixel Popup Maker allows you to determine where the popup will be displayed. You can display popups by user role, select specific pages, and posts or add exceptions. Advanced popup customization settings allow you to select an animation, overlay background, popup position, add blur to the overlay background and customize the close button. All these settings are available in the Customization tab.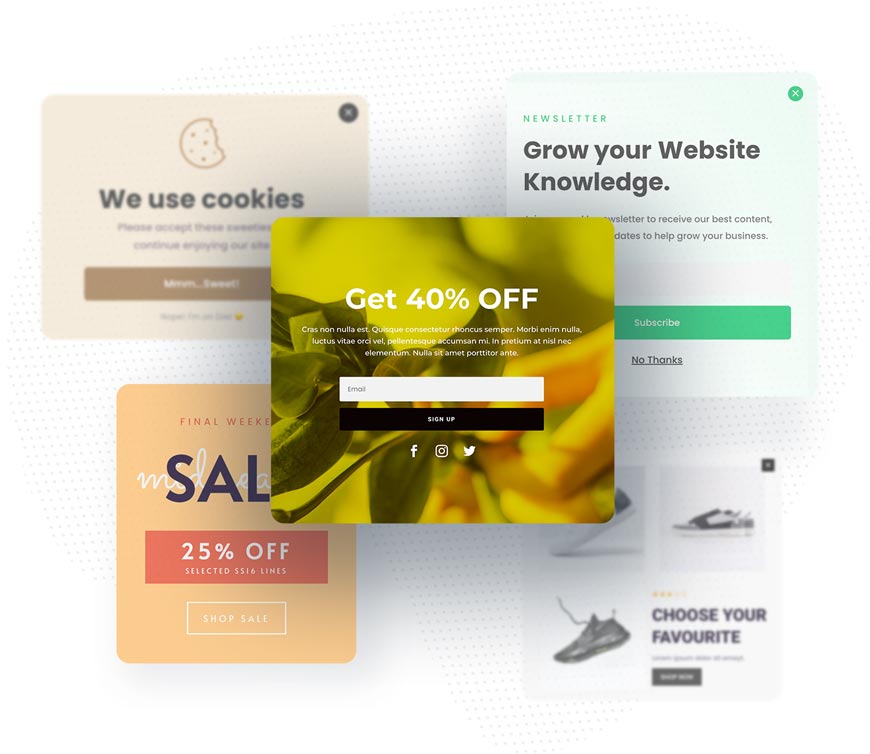 To make things easier, we have designed over 30 popup templates that you can import and use on your Divi website in a few simple steps. To download templates, login to My Account and go to the Demo Downloads page.
Login to My Account and click on Demo Sections button located at the bottom
On the downloads page, find Popup Maker and click the Download button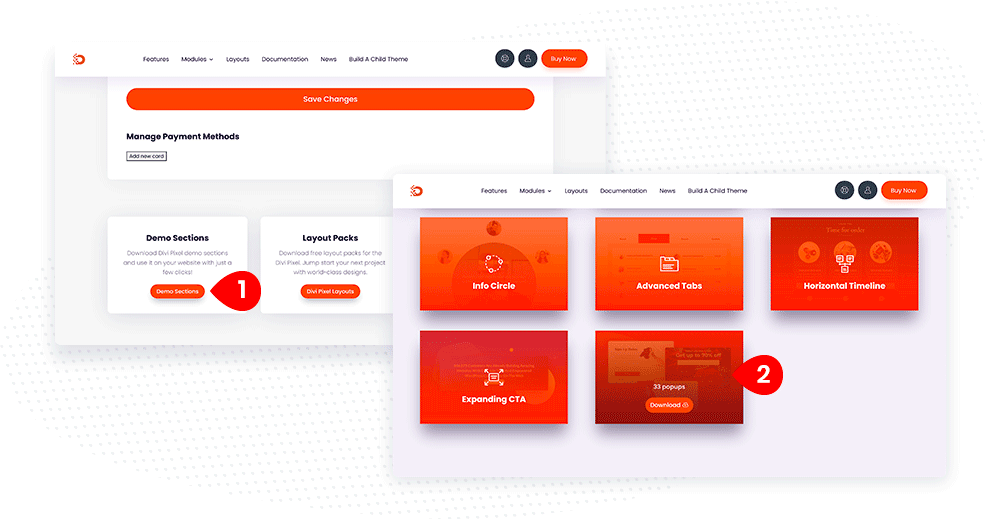 The download file is in .zip format, so you need to extract it. You will find 33 popups .json files inside, and one master file with all popups included. If you want to import only 1 popup, then import only appropriate .json file. If you want to import all popups from our demo page, then import master file.
In WP Dashboard, navigate to Divi → Divi Library and click Import & Export button
Switch to Import tab and click Choose File
From the downloaded package select the popup you want to import, or select Master file if you want to import all popups
Click Import Divi Builder Layouts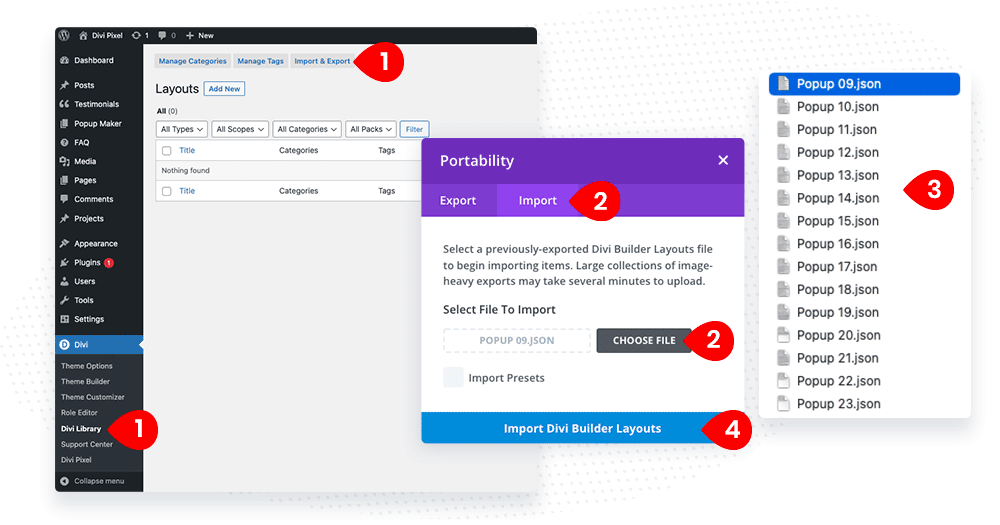 Now, when the template you want to use is imported, you need to create a new popup and load the premade template to use the prebuilt popup layout.
In WP Dashboard navigate to Popup Maker and click Add New
Add popup title
Click Use The Divi Builder Button
In Choose A Premade Layout click Browse Layouts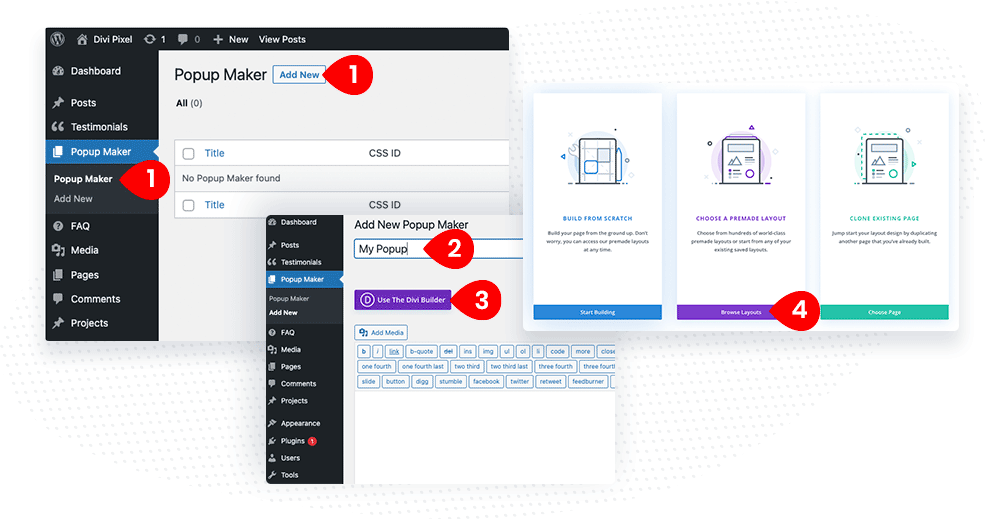 In the modal window switch to Your Saved Layouts
From the list of layouts select the one you want to use
Click Use This Layout button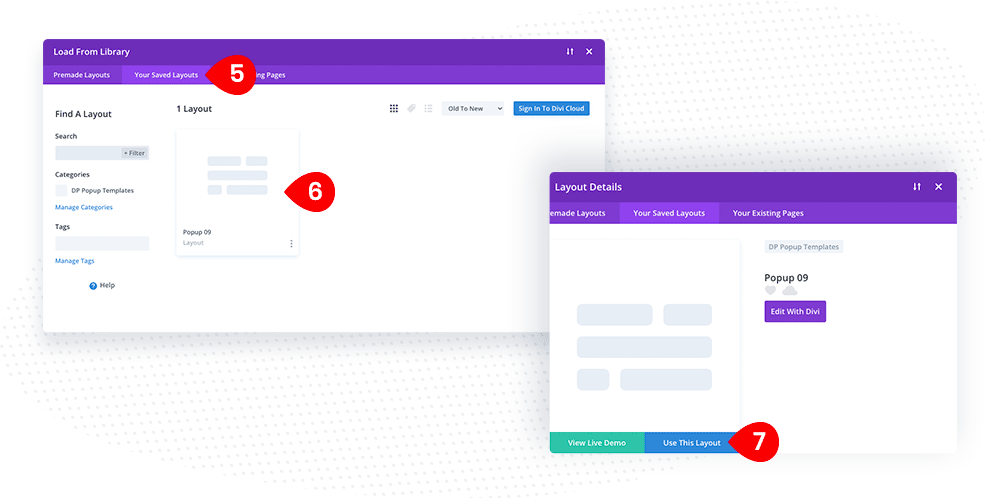 This is it. Your popup template should be loaded. Now you only need to configure Popup Settings, like selecting trigger event, select popup location, add overlay background and customize close button. These all can be configure in the Popup Maker setting, below the Divi Buidler.
That's all for today. We hope you will like this new and powerful feature added to the Divi Pixel plugin. We'd love to hear your feedback. Share your opinion in the comments below 🙂 If you would like to connect with other users that are using the Divi Pixel plugin, join the Divi Pixel Community today! You are more than welcome!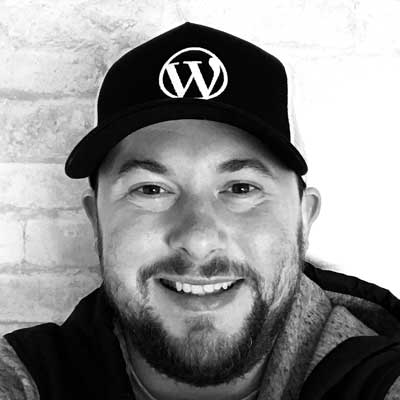 Maciej Ekstedt
Maciej is the co-founder of Divi Pixel. He is a self-made web designer and marketing expert, and he loves his job so much that he barely leaves the office. He transforms creative ideas into effective strategies for his company. Maciej is fascinated by the phenomenon of a megalopolis. He notices patterns and details which make up the whole thing, and he uses these skills in his work.
Enhance your Divi Theme with Custom Settings and New Modules. Start Creating Awesome Websites with the Divi Pixel
We offer a 14 Day Money Back Guarantee, so joining is Risk-Free!