Create Animated Headings with Fancy Text Module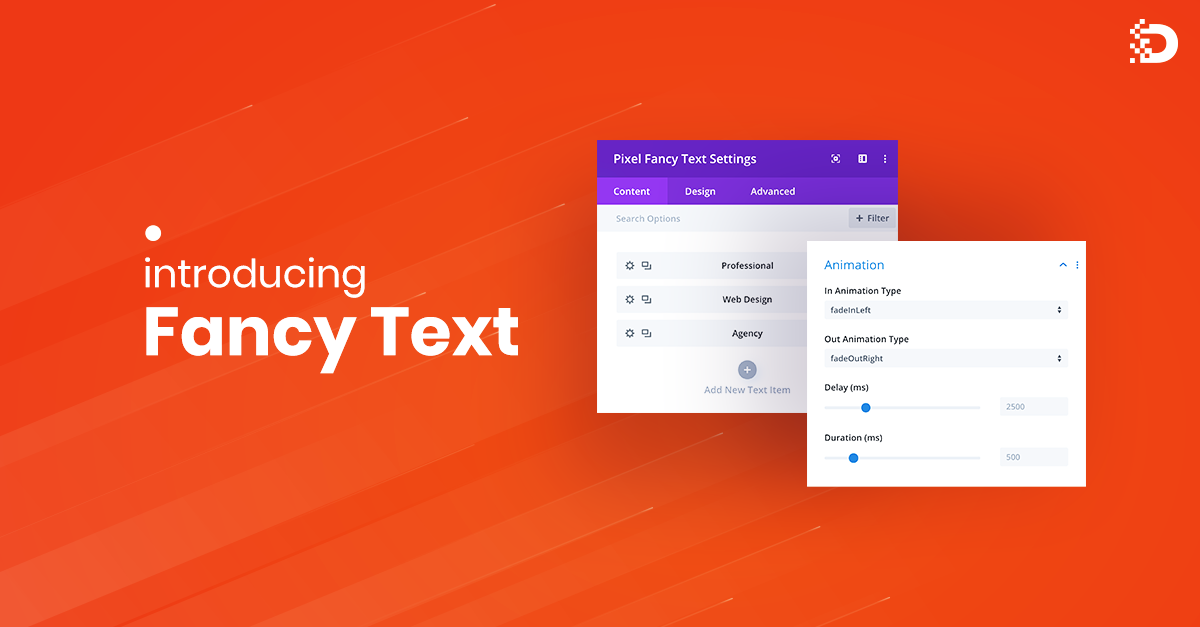 Today we're excited to introduce the next brand new Divi Pixel module: Fancy Text. With this module you'll be able to easily create animated headings that will grab your user's attention and spice up your Divi website.
In this update, we've addressed and fixed dozens of issues reported by Divi Pixel users, but the main part of this update is the brand new Fancy Text module, which will take your designs to the next level. Our team is working hard to solve any issues and to provide the best user experience ever.
Divi Pixel is 4 months old now. We had a phenomenal start—for which we would like to thank you! We aim to make the Divi Pixel plugin better every day, so expect more great news like this in the near future!
Attract Your Visitors with the New Fancy Text Module
The Divi Pixel Fancy Text module is the second module (after the Typing Text  module) available in our plugin that allows for easily creating animated headings. This module comes with powerful settings. You can add as many texts as you want, and rotate them with eye-catching animations.
We've integrated the Morphtext library with 37 custom animations that can be applied independently for animation-in and animation-out. You can also define the duration of each text, animation speed, add prefix and suffix text, and customize all of the text as you like. With the Divi Pixel Fancy Text module, creating awesome Hero sections is easier than ever before!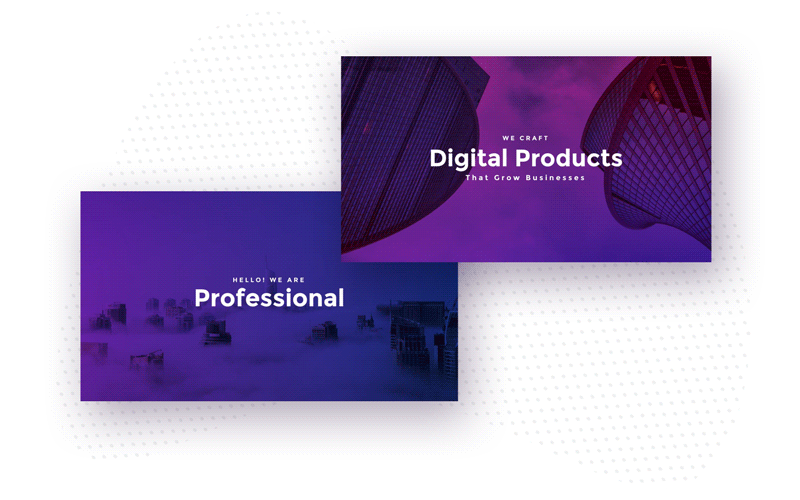 Fancy Text Module Settings
The Fancy Text module is based on child modules, which means you can add multiple texts in the module, and rotate between them with animations. The module also allows adding Prefix and Suffix text, which can be displayed horizontally or vertically. Each child module has its own settings for text customization, which can be accessed by clicking the toggle icon on the child module, and then in the Design tab, in the Module Text section. Here you can customize the text font, color, size, letter spacing, add shadows, and more.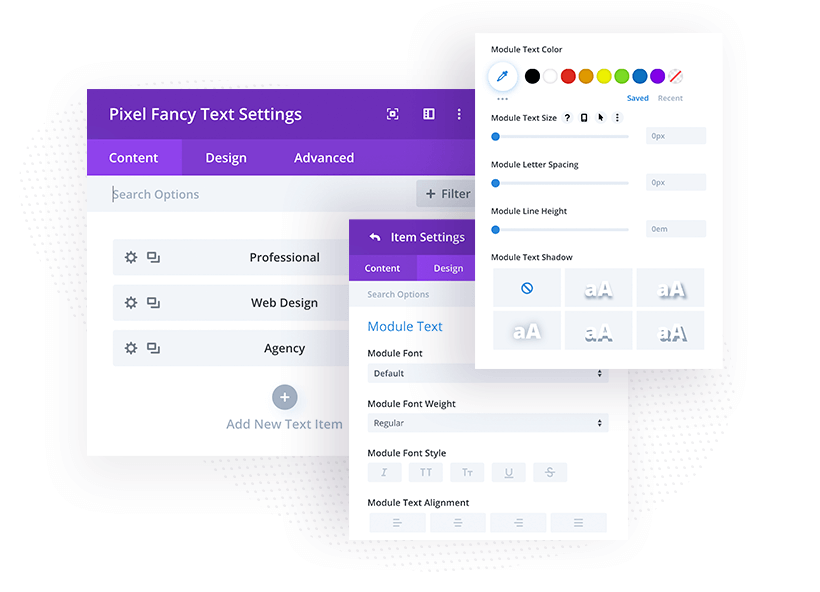 At the core of the Fancy Text module are animations. We've integrated the Morphtext library with 37 custom animations from which you can select. The cool thing is that you can choose how the text will animate in and animate out, which gives you unlimited possibilities and combinations.
The Animation Settings also include Delay, which defines when each text will be displayed, and Duration, which defines how long the animation lasts.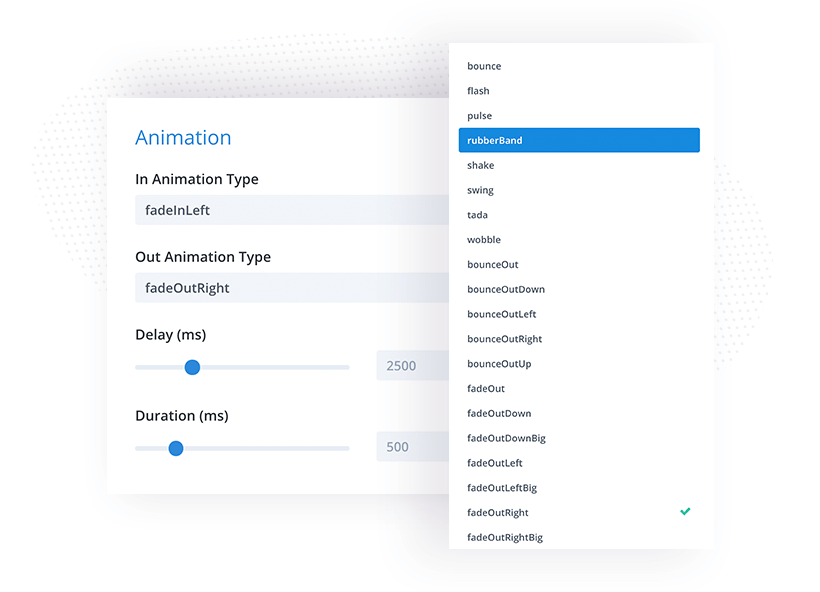 The Divi Pixel Fancy Text module is a great way to create awesome Hero sections, animated text, and add some "wow" factor to your Divi website!
Take your designs to the next level, and save time and money with the Divi Pixel Plugin. Select your plan and start building awesome websites today. We offer a 14-day money-back guarantee, so joining Divi Pixel is risk-free!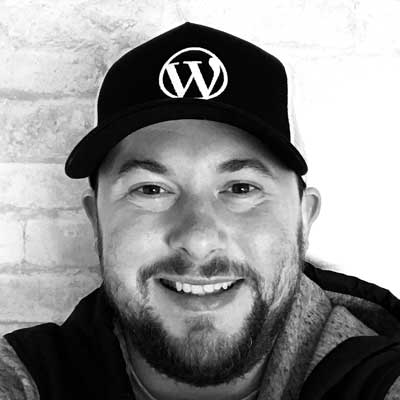 Maciej Ekstedt
Maciej is the co-founder of Divi Pixel. He is a self-made web designer and marketing expert, and he loves his job so much that he barely leaves the office. He transforms creative ideas into effective strategies for his company. Maciej is fascinated by the phenomenon of a megalopolis. He notices patterns and details which make up the whole thing, and he uses these skills in his work.
Enhance your Divi Theme with Custom Settings and New Modules. Start Creating Awesome Websites with the Divi Pixel
We offer a 14 Day Money Back Guarantee, so joining is Risk-Free!