Explore The New Options for Divi Pixel Modules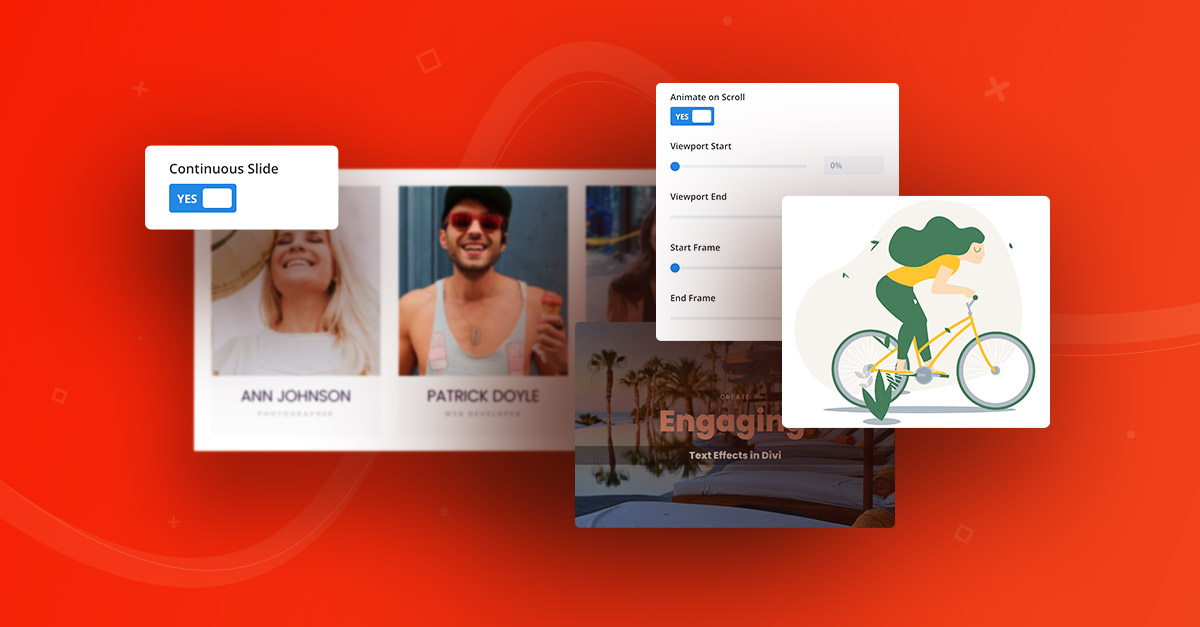 It's been a while, but today it's time for another update, where we added some cool new options to Divi Pixel modules, and fixed a dozen small issues 🤩
The last update, version 2.16, was released more than a month ago and a new Pricing Table module has been added that allows you adding amazing price list sections on your Divi website.
Today we don't have a new module for you, but there are some improvements that I would like to tell you about. We improved a few modules where new options were added, and we also fixed a dozen small issues. If you're interested in what's new, keep reading.
Continuous Slide for Carousel module
The Divi Pixel Carousel is a powerful slider builder for the Divi website. This module allows you to add an image, title, description and button, or a completely custom layout saved in the Divi library. You can display navigation, change columns number, add pagination and style all elements just like you want.
In this update, we are adding a new feature to the Carousel module. This feature is called Continuous Slide, and when it's enabled, the Carousel module will scroll continuously. You can define slide speed to create an unforgettable user experience.
This effect can be used for displaying company logos, team members, services and more. There is an option to stop sliding on hover, so when the user mouseover over the Carousel module, it will stop sliding, so the user can interact with the Carousel content.
Animate Lottie Icon during scrolling
The Divi Pixel Lottie Icon module allows you to display animated icons in the .json format. You can start the animation on page load or in a viewport. Many users from the Divi Pixel Facebook Group have asked if it's possible to animate the Lottie icon during scrolling. We thought this kind of interaction is very interesting and can help to keep users engaged in browsing the website.
We have added such an option in this version. You can enable the Animate On Scroll option in the Lottie Icon module settings, customize viewport start and end points and define animation frames.
Start Typing Text animation in a viewport
The Typing Text module allows you to add a nice typing text effect to your Divi website. You can add prefix and suffix text, add typing text, change flex-direction (row or column) and customize all texts using the Divi Builder. In this release, we are adding a new feature that will allow you to start typing text animation when the user reaches a viewport.
This option will be especially useful when you place the module at the bottom of the page, and you want to start the typing animation when the user will scroll down to the section where the module is used. The Typing Text module allows you to loop animation, or animate the text only once when the loop option is disabled.
Create
Text Effects in Divi
Responsive tab icon placement
The Advanced Tabs module is one of the most used modules on websites. It allows you to save space and display content in a clearer and more organized way. This module allows you to create tabs in which you can display content.
One of the options available in the module is the option to add an icon or image to the tabs. In this update, we improved this feature by adding responsive options that will allow you to change the position and placement of the icon depending on the device.
Note: We had to add completely new settings to make the tab icon placement options responsive. It might be necessary for all current modules, to revisit module settings, and set the icon placement and alignment again.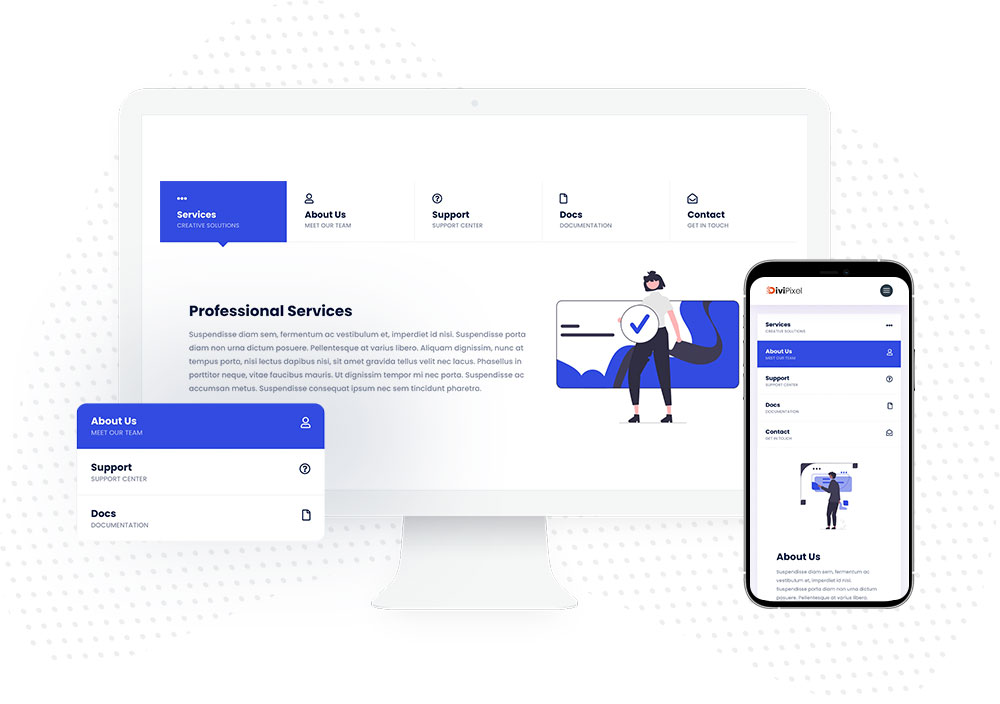 Our team is constantly working on new modules and improvements, but in the meantime, we also fix bugs and improve modules. We wanted to publish this version before adding another module. Below are some important improvements and fixes, and the full change log can be found here.
Popup Maker fixes
The Divi Pixel Popup Maker is probably one of the most effective and advanced popups solutions for Divi. It became a favourite tool for the users allowing the creation of popups and triggering them on various events. In this release, we have fixed the issue where displaying popups for guest users didn't work. We also fixed a problem with the video popup where the video was still playing after the popup was closed. Another improvement is a new option that allows you to interact with the page even when the popup window is opened.
Masonry Gallery image count
The Masonry Gallery module is a great tool for displaying image galleries. In this version, we have added a new option where you can set image count. This new setting is responsive so you can define image count for desktops, tablets and mobiles.
We work on many projects simultaneously. At some point, we have to go back to the WooCommerce modules, but in the meantime, we will release 1 new module – Filterable Gallery.
We also have some beautiful new Layout Packs that will be coming soon. In the next major update we are going to release Layouts Importer, that will be a gamechanger. Thanks to it, importing layouts will be much easier, because we have designed a user interface where you can install the layout pack directly from the Divi Pixel plugin dashboard. If you want to see more cool stuff we are working on, please check our Product Roadmap.
Layouts Importer
Instal Divi Pixel Layout Pack directly from the Divi Pixel plugin dashboard, with one click!
New Layout Packs
We are constantly working on new Divi Pixel Layout Packs that will speed up your web design process significantly. In the next coming days, we will release Electrical layout pack.
Filterable Gallery
The Divi Pixel Filterable Gallery is the new module that will be released in the next few coming days. It's a powerful module for displaying image galleries on your Divi website. The module allows for the creation of categories and assigns images to them in the Media Library.
That's all for today. We hope you will like this new modules settings and improvements. In the next release we will publish a new module, so stay tuned! We'd love to hear your feedback. Share your opinion in the comments below 🙂 If you would like to connect with other users that are using the Divi Pixel plugin, join the
Divi Pixel Community
today! You are more than welcome!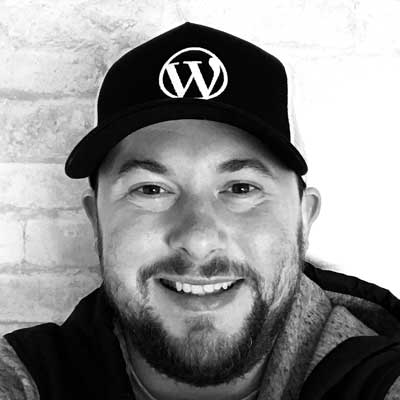 Maciej Ekstedt
Maciej is the co-founder of Divi Pixel. He is a self-made web designer and marketing expert, and he loves his job so much that he barely leaves the office. He transforms creative ideas into effective strategies for his company. Maciej is fascinated by the phenomenon of a megalopolis. He notices patterns and details which make up the whole thing, and he uses these skills in his work.
Enhance your Divi Theme with Custom Settings and New Modules. Start Creating Awesome Websites with the Divi Pixel
We offer a 14 Day Money Back Guarantee, so joining is Risk-Free!