Introducing Timeline Module and Performance Update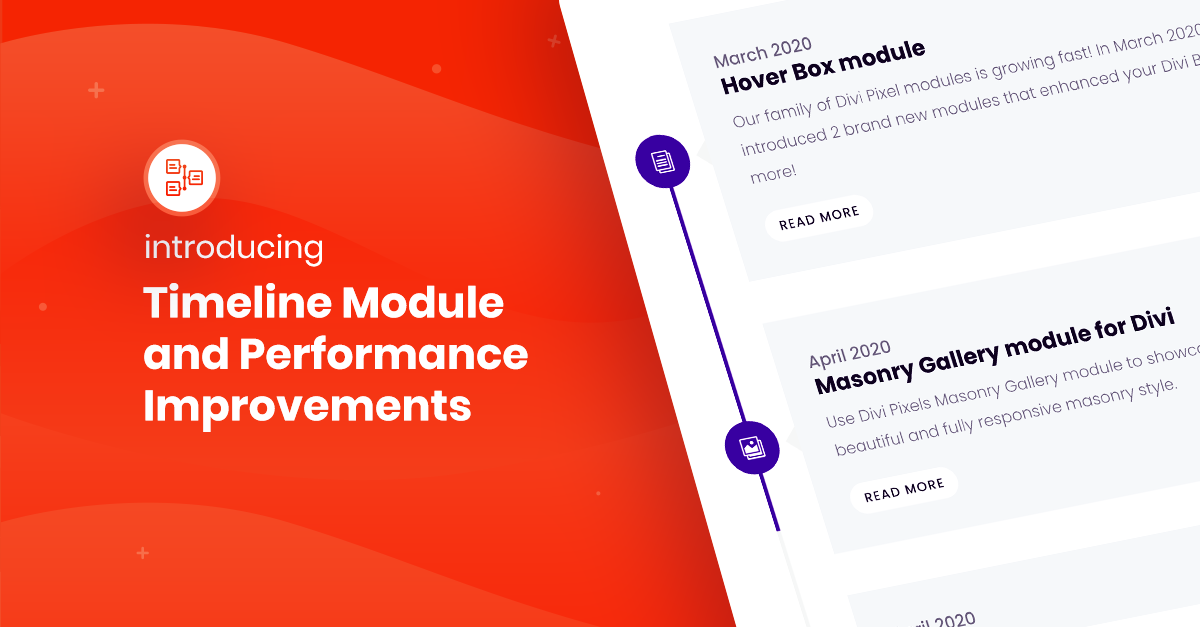 Today we have excellent news for you. Divi Pixel got a massive performance update, which will make your websites faster and even more beautiful 🥳 🎉
Our team was working hard during the last few weeks to finally bring this huge update to you. Plugin performance was the hottest topics in the last days and we made significant improvements in Divi Pixel's files structure as well as in the code which loads scripts and styles. These changes will noticeably improve website loading times and makes the plugin more efficient.
This update will also fix multiple minor bugs, and as always, we are adding a new module which will help you build cool timeline sections in minutes.
We have listened to your feedback. Divi Pixel is our beautiful baby and we want it to be the best plugin for Divi you can find. There were many enquiries about plugin performance and we couldn't leave this without further actions.
The main problem we have solved in this update is that the plugin won't load modules files which are not used on a specific page. We have split various combined JS files and we changed the file structure of our project, so now, modules files are only loaded on demand. This will help us with adding more modules into the plugin in the near future without having the performance suffer.
Having multiple files instead of one large file is sometimes discussed controversially. However, we see the benefits of having multiple files. On a page where none of our modules is used none of our scripts is loaded. On a page where module X is loaded, only scripts required for this module will be loaded. This keeps the size of your page nice and small and if you implement proper caching on your site you'll get combined, minified files anyways – but instead of containing a lot of unnecessary code, it will only contain what's needed to render the page properly.
Besides only loading what's really necessary, we also modified our build and development process so now all scripts which Divi Pixel loads are minified by default to save traffic, which is especially nice for your mobile users who now consume a lot less data volume when visiting your site.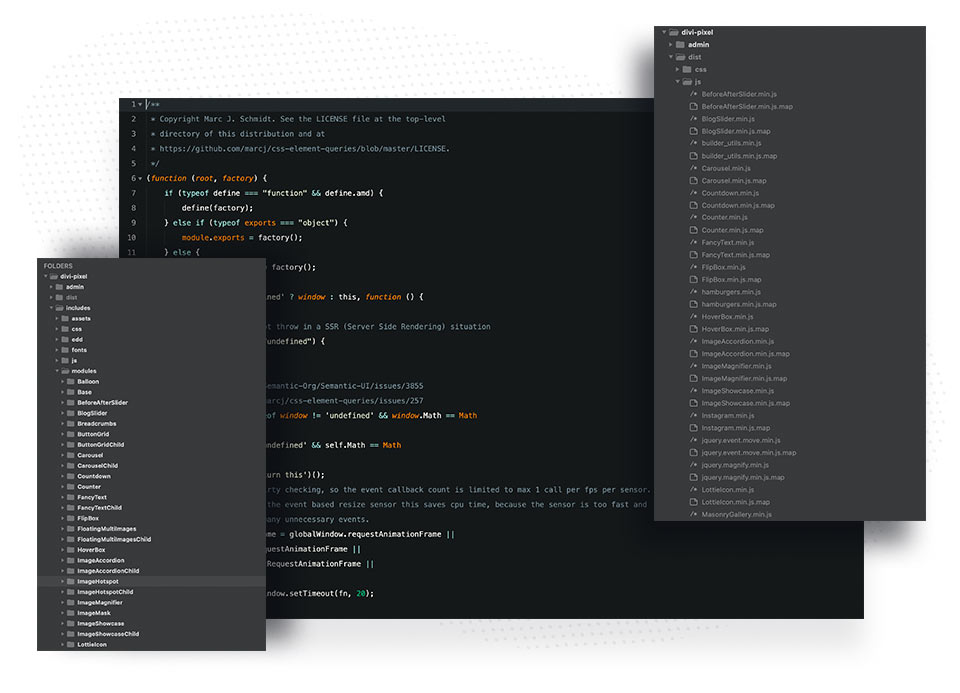 We made a few tests using Google Page Speed website and it looks promising. Of course, the overall website performance depends on many factors like your server setup, website optimizations,  other plugins installed, the content of your page, modules used and so on and so forth. We have tested a fresh install of Divi with and without Divi Pixel and the change in the Google score is not even noticeable – and this is exactly what we were aimed to.
The installation for this test has also a free version of the WP Fastest Cache plugin installed and Cloudflare linked. Please also note, the website has been tested on our server, in our environment, so we do not guarantee the same results on each and every installation.
But we are not done yet. We still see some corners where we could improve loading time even further, which is our goal with the next few updates. For example, Divi itself automatically loads a bunch of scripts and styles from every Divi Extension plugin. With some PHP trickery, we will be able to prevent this and instead only load our own scripts when we need them. This should further reduce the number of requests when visiting your page as well as the overall size of the page.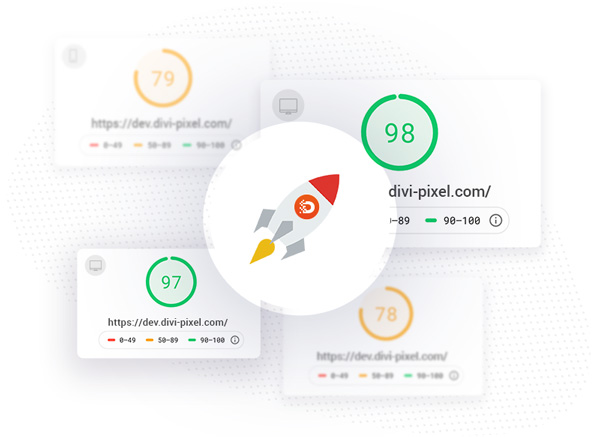 Meet the new Timeline module for Divi
For this update, we have also added the brand new module which you are going to love! We have researched all possible modules available and squeezed the best settings to make it unique, functionally and highly engaging. With Divi Pixel Timeline module you can add to your website a nice looking timeline and customize it just like you want. You can add ribbon text which will be displayed opposite the card and then you only have to add your content (image/icon, title, description and button).
The module offers 3 layouts. You can display cards mixed (left/right) or select 1 side. These settings have also responsive options, so your timeline will look great on all devices.
To make this module even more engaging, we have added a nice, animated timeline line which animates during scrolling. Take a look at some of the Divi Pixel Timeline settings: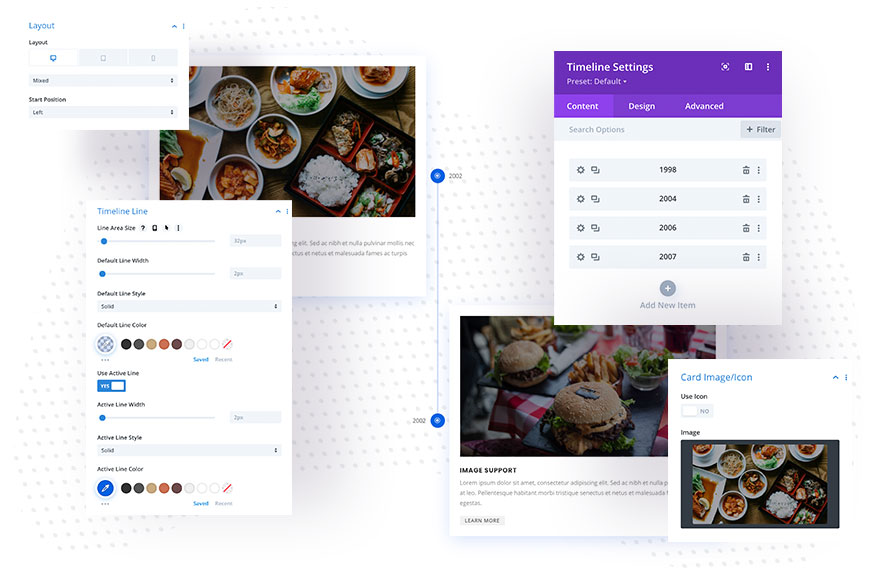 Take your designs to the next level and save time and money by using the Divi Pixel Plugin. Select your plan and start building awesome websites today. We offer a 14-day money-back guarantee, so joining Divi Pixel is 100% risk-free!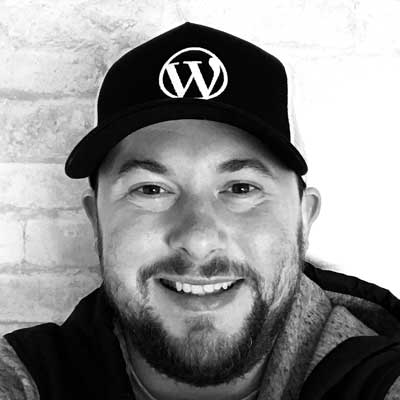 Maciej Ekstedt
Maciej is the co-founder of Divi Pixel. He is a self-made web designer and marketing expert, and he loves his job so much that he barely leaves the office. He transforms creative ideas into effective strategies for his company. Maciej is fascinated by the phenomenon of a megalopolis. He notices patterns and details which make up the whole thing, and he uses these skills in his work.
Enhance your Divi Theme with Custom Settings and New Modules. Start Creating Awesome Websites with the Divi Pixel
We offer a 14 Day Money Back Guarantee, so joining is Risk-Free!