Create Amazing Galleries with the Masonry Gallery module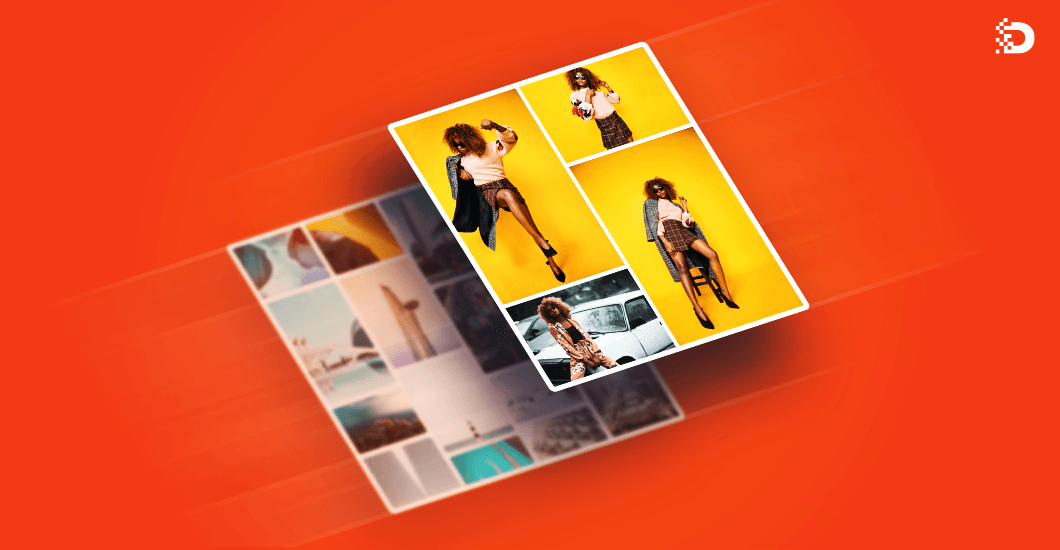 Use Divi Pixels Masonry Gallery module to showcase your images in a beautiful and fully responsive masonry style. Design lively and eye-catching websites in no time. The Masonry Gallery module is fully responsive, has a lot of options and can be easily customized.
With the Divi Pixel Masonry Gallery module, you can showcase your images with style. Whether you are a photographer, makeup artist, photo lover, builder who wants a portfolio gallery to showcase your best works – you can do it with this Divi Pixel module.
Let's take a closer look at what Masonry Gallery module has to offer.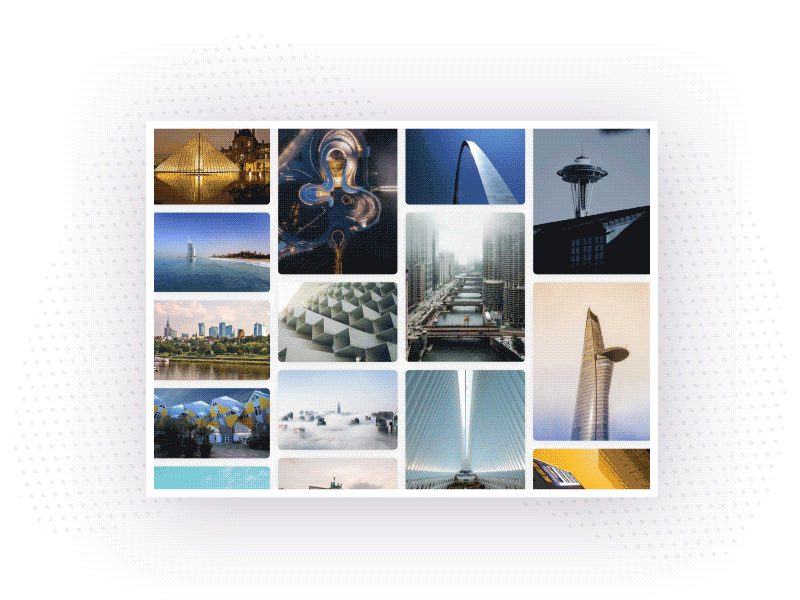 Masonry Gallery module settings
Divi Pixel Masonry Gallery is easy to use. It works great on mobile devices and like all other Divi Pixel modules, it is highly customizable. The main part of the module settings are of course the images, which can be uploaded via the module or selected from your WordPress media library.
For search engine optimization purposes, the Masonry Gallery module will pull your images titles and alt texts directly from your WordPress media library. Those texts will then show up in the HTML of your website and can be read by search engines.
Besides that, the title and/or the caption of the image – both can be configured for each image in the WordPress media library – can be displayed in the lightbox, which opens when you click on one of the images in the gallery.
You can also sort the images just the way you want. Either by using the default sort order, where you can drag and drop the images to sort them or by choosing the random sort order, where the images are randomly mixed on every page load, giving your users a new impression every time they visit.
Finally to optimize your website even more, you can enable the Responsive Thumbnails. By enabling this option, you can choose different thumbnail sizes for desktop, tablet and phone devices so that you don't waste precious bandwidth and speed up loading times.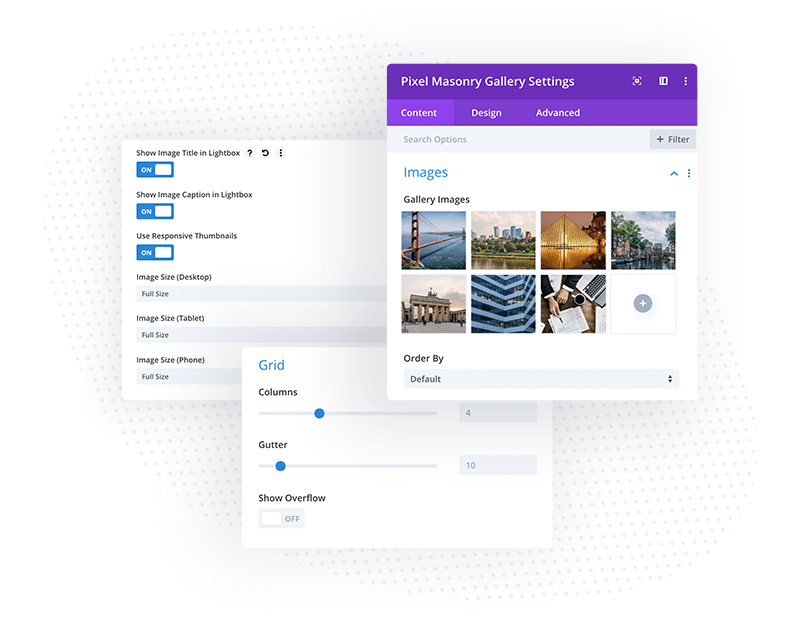 Module Customization Options
On the Design tab, you can customize the look of the module. Besides the usual Divi module options you are already familiar with, there are some unique options only the Divi Pixel Masonry Gallery module has.
First we have the Grid toggle. Here you can configure how many columns the Divi Pixel Masonry Gallery should display. This option is responsive enabled, so simply click the little button next to the label to choose different values for desktop, tablet or phone devices. Since phones have smaller screens, you usually want less columns to be displayed here while on desktops you want to make the most of all the screen real estate.
You can also configure a Gutter – the space between each column in the grid – as well as whether to show overflow or not. The later is required if you want to show box shadows on the images. If disabled, the shadows might get cut at the left and right side of the module but if you enable this setting, shadows can bleed out of the modules own bounds.
Next we have the Grid Items toggle, where you can configure the look and feel of each of the images. For example, you can add rounded corners, borders and box shadows.
Finally we have the Overlay toggle, where you can setup a hover overlay. If you hover over one of the images, a colored overlay can be displayed and you can even configure an icon to show up.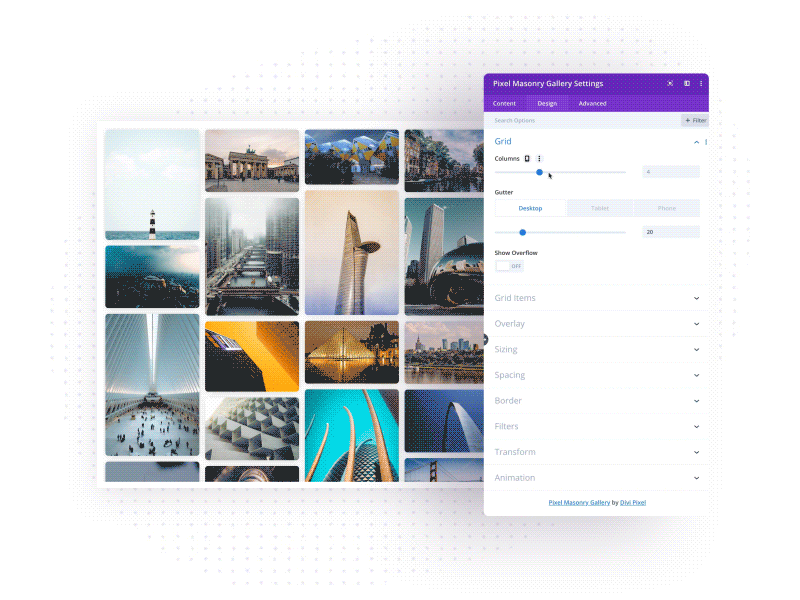 The Divi Pixel Masonry Gallery is the perfect choice to display a small collection of images in a beautiful and interactive way without sacrificing page loading speeds and responsiveness, all configured with only a few clicks. It doesn't get simpler than that.
You can use the Divi Pixel Masonry Gallery and many more cool Divi modules on your Divi website with the Divi Pixel plugin. Select your plan and start building awesome websites today! We are offering a 14-day money back guarantee, so joining Divi Pixel is risk-free!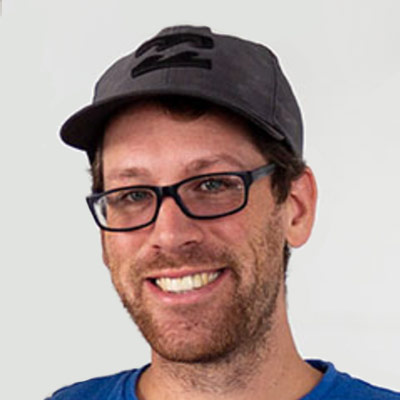 Jan Thielemann
Jan is the co-founder of Divi Pixel. He is a professional software developer who started developing for WordPress as a hobby. When he made his first contact with Divi in 2016, he immediately saw the potential. Shortly after he developed his first Divi plugin, which was a huge success, he started a side business selling various Divi related products. He's an expert known throughout the whole Divi developer community.
Enhance your Divi Theme with Custom Settings and New Modules. Start Creating Awesome Websites with the Divi Pixel
We offer a 14 Day Money Back Guarantee, so joining is Risk-Free!