Download A FREE Footer Layout Pack for Divi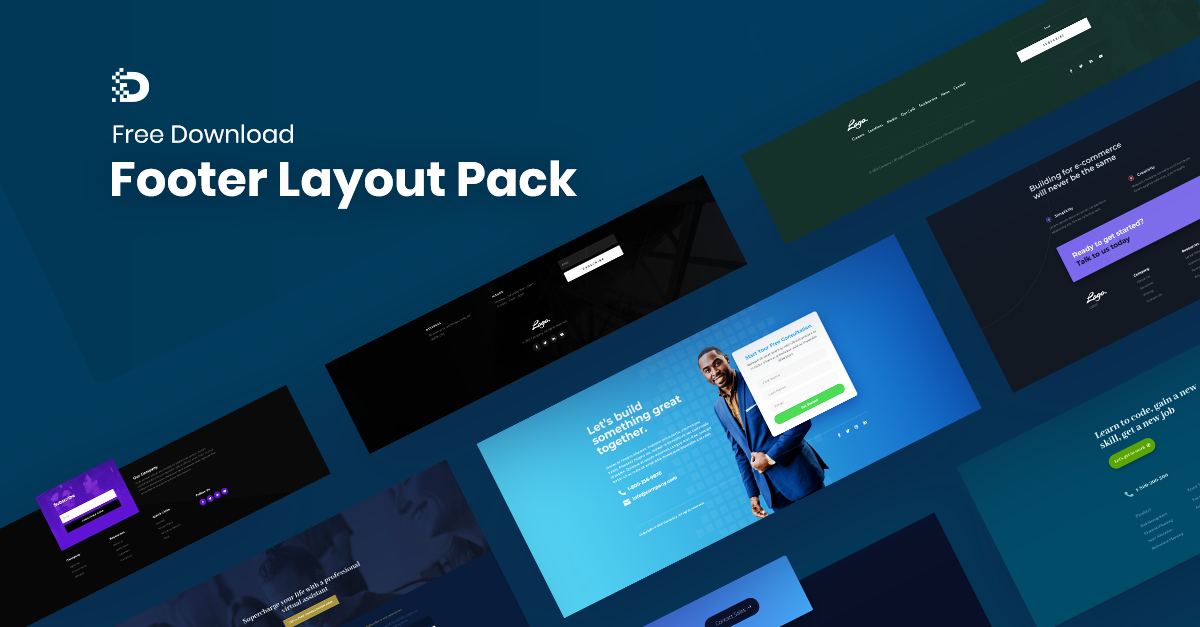 Today we would like to share with you our newest freebie. This is a creative and professional Footer Layout Pack for Divi.
The footer is a very important element of any website, although it is often an element overlooked by most web designers who do not pay much attention to it. And this is, unfortunately, a mistake, because the footer is the last section that our visitors see, and it has a huge impact on whether they decide to stay on our site or not. A well-designed footer is to make the visitor take additional actions that will be possible thanks to the elements available in our footer.
Exclusive Footer Layout Pack for Divi
To help you quickly create and implement the right footer on your Divi website, we have prepared 10 professionally designed footers that you can use in any project you want. They are fully customizable and optimized for mobile devices. Each footer is saved as a section to the Divi Library and you can inject it to your Divi site in minutes. This layout pack includes 10 footers, each with a different design, so everyone will find something suitable for their website.

How to import Footer Layout Pack to Divi Library
The download package contains a .zip file, which has to be extracted before you can import it to your Divi website. Once you download and extract the file, you can import it to the Divi Library and use it on your Divi site by adding a new footer via Theme Builder or Divi Pixel Layout Injector.
Go to Divi → Divi Library
Click the Import/Export button located at the top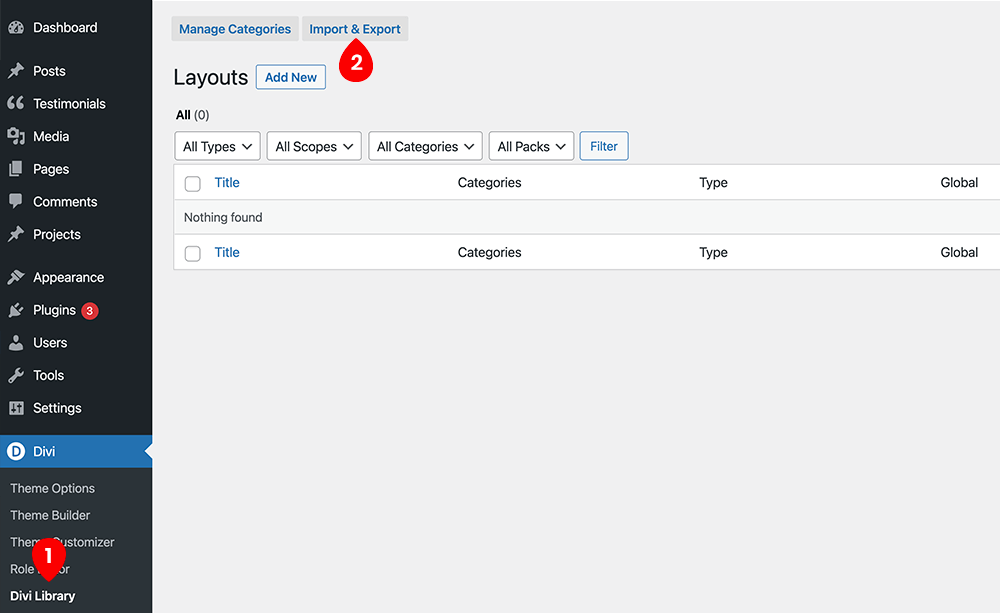 In the modal box select Import tab
Click Choose File and select Footer Layout Pack.json

Click Import Divi Builder Layouts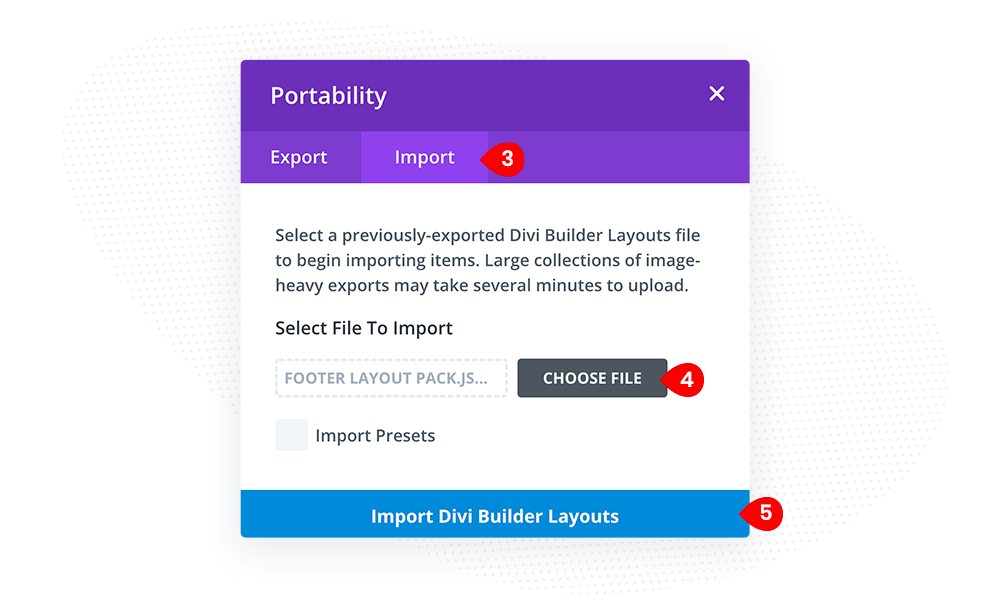 Add Footer to the Divi website using Theme Builder
Once our Footer Layouts are imported to our Divi Library, we can use them on our Divi site using the Divi Theme Builder, which allows us to inject our footer section globally with a few simple steps.
Go to Divi → Theme Builder 
Click Add Global Footer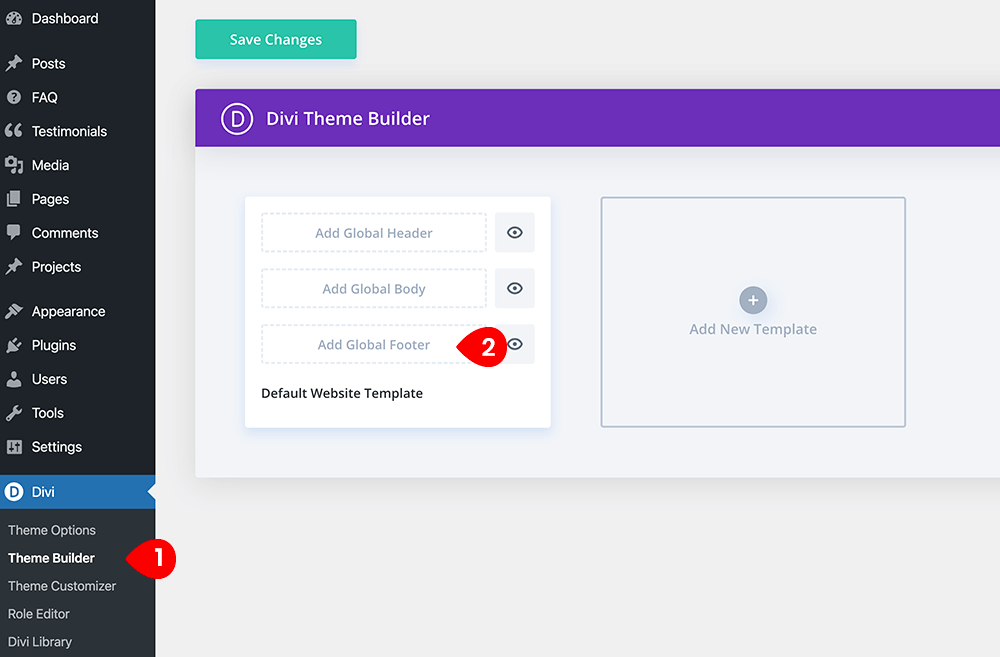 Click the Build Global Footer option
In Build From Scratch modal box and click Start Building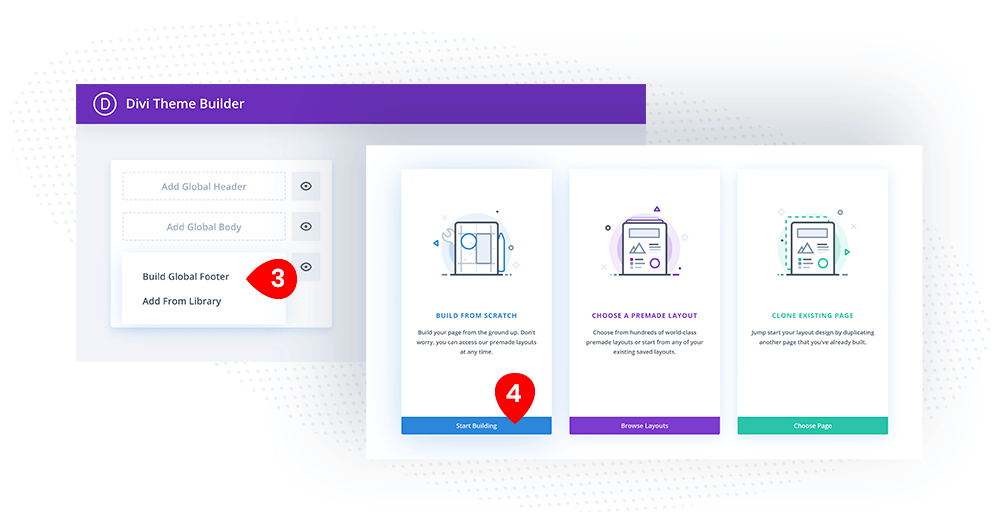 Click Add New Section icon
Switch to Add From Library tab
Select the Footer Layout you want to use
Note: By default, there is already an empty section added, so after we add our section, we can remove the top section, so only our new footer will be displayed.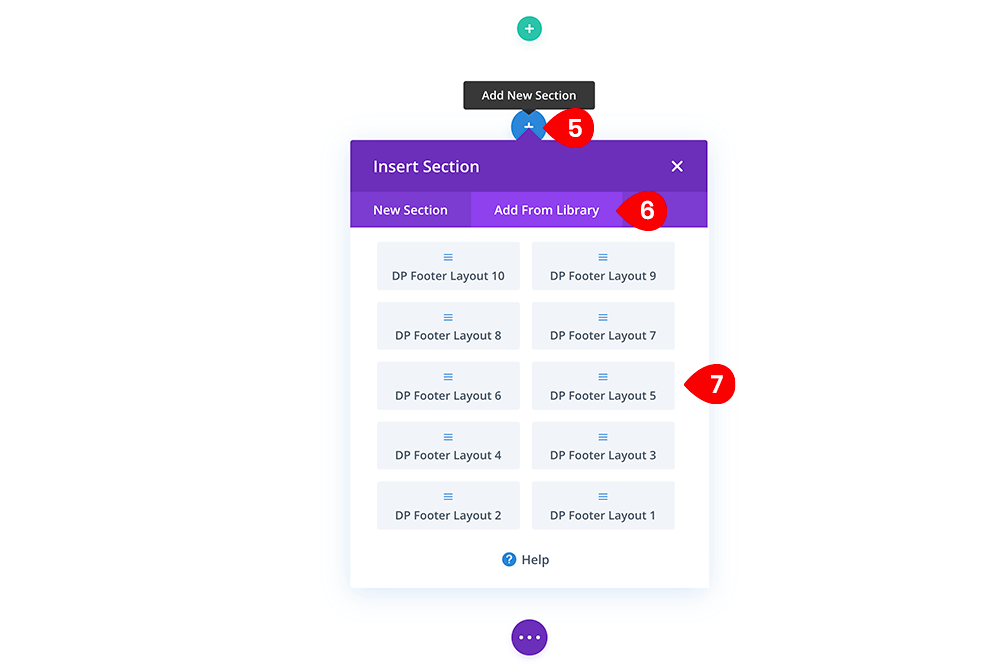 Customize your selected footer and click Save after you are done
Close Visual Builder
Select the Footer Layout you want to use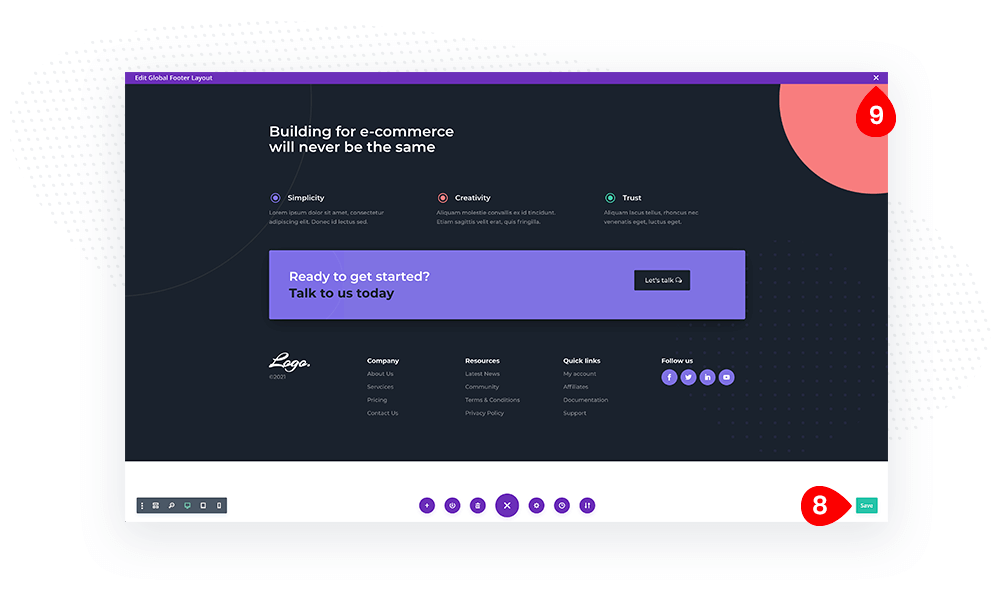 In this last step, you need to click Save Change to save Theme Builder settings.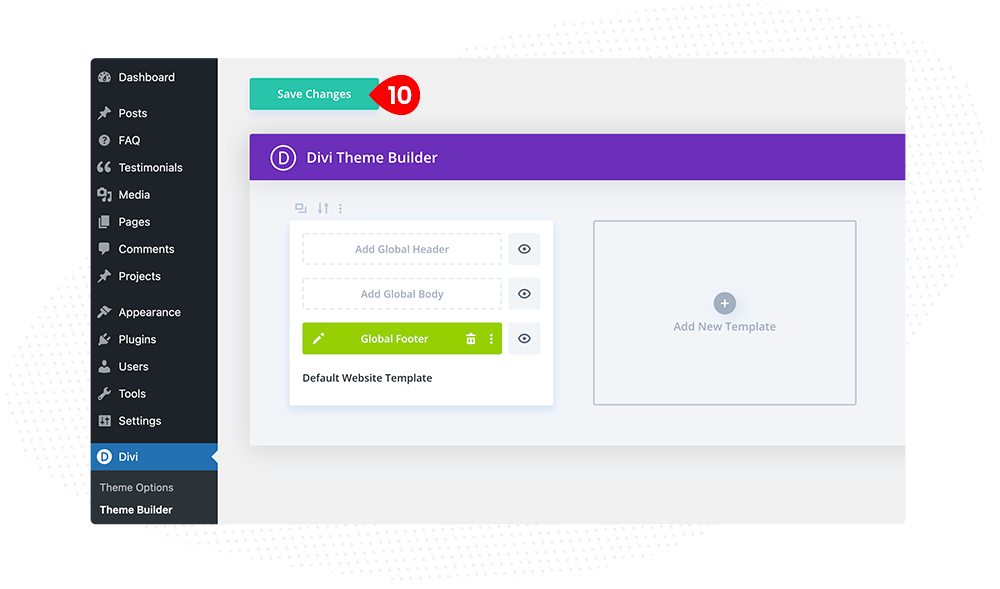 Add Footer to the Divi website with Divi Pixel Layout Injector
Divi Pixel is a powerful plugin especially developed for Divi. It offers over 200 theme customization settings and 30 custom modules. One of the Divi Pixel features is Layout Injector, which allows us to inject layouts globally in different places. We can set footer, add a layout before and/or after blog archive page, set 404 pages, add footer reveal effect and more.
To insert Footer Layout using the Divi Pixel settings please follow these steps:
Go to Divi → Divi Pixel
Select Layout Injector tab
Scroll down to the Footer section and enable Use Custom Footer Layout
Select the desired footer layout from the Divi Library
Click Save Changes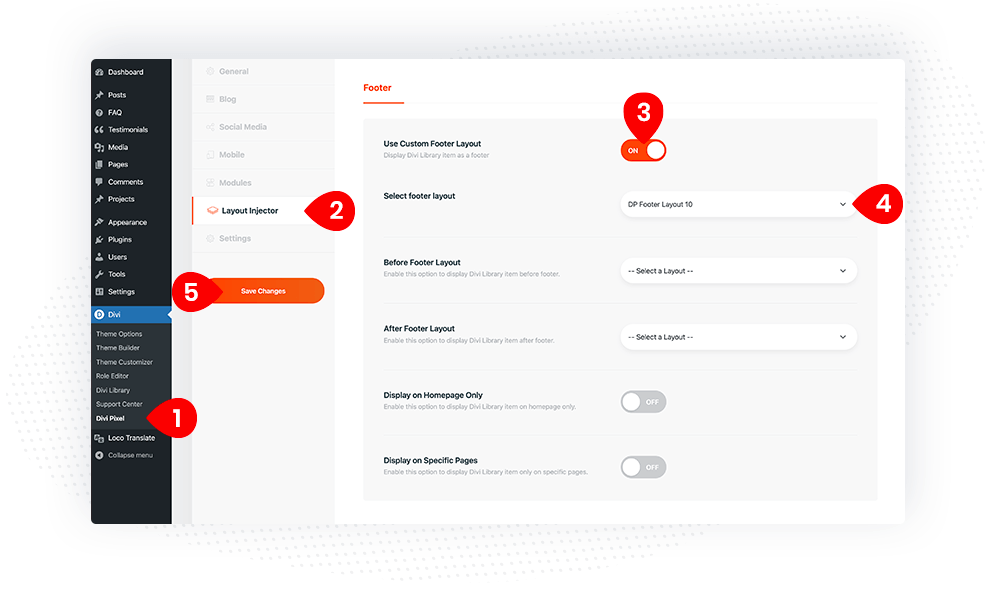 This is it! I hope you will enjoy using this Footer Layout Pack on your Divi website and that it will help you build a better footer quicker. If you like this freebie, please let us know in the comments below 😉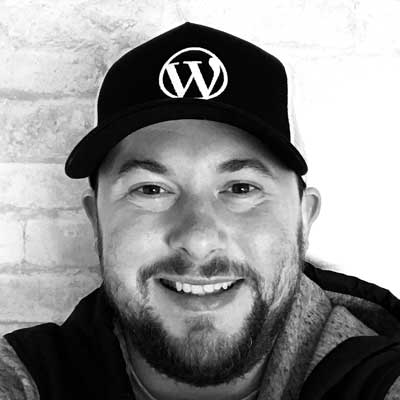 Maciej Ekstedt
Maciej is the co-founder of Divi Pixel. He is a self-made web designer and marketing expert, and he loves his job so much that he barely leaves the office. He transforms creative ideas into effective strategies for his company. Maciej is fascinated by the phenomenon of a megalopolis. He notices patterns and details which make up the whole thing, and he uses these skills in his work.
Enhance your Divi Theme with Custom Settings and New Modules. Start Creating Awesome Websites with the Divi Pixel
We offer a 14 Day Money Back Guarantee, so joining is Risk-Free!