Download FREE Team Members Section for Divi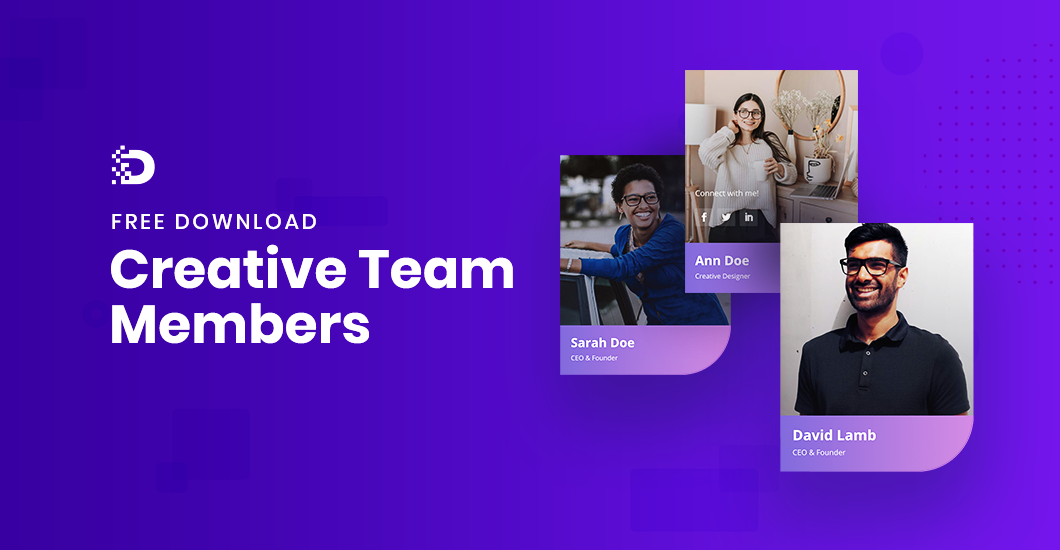 Choosing a  new service provider can be overwhelming, especially if your customers don't know who the real people behind your company are. Make it easy for your customers!
Adding a "Meet the Team" page or section to your Divi website is an easy, effective way to give your business a real face. It gives prospects an idea of who exactly you are and shows potential employees that you're proud of the people on your team.
This page is dedicated to showcasing your business' strongest asset: your team. It's a great way to add faces to names and position titles. Nowadays that's very important, since customers usually prefer a much more personalized experience with the businesses they are purchasing from.
Creative Team Members Section for Divi
We have prepared a freebie for all Divi users. It's a section to showcase your team members. Each member box is using two modules: Social Media Follow and CTA. There's a profile image in the Social Media Follow module as well as some nice hover effects for the social buttons and column container border-radius, which is activated when the user hovers the column.
Once you hover over the team member box, you can see the social icons slide in nicely, the bottom right corner changes border-radius to 0 and a little arrow shows up (in case you would like to add a link, so the visitor can access a single team member page).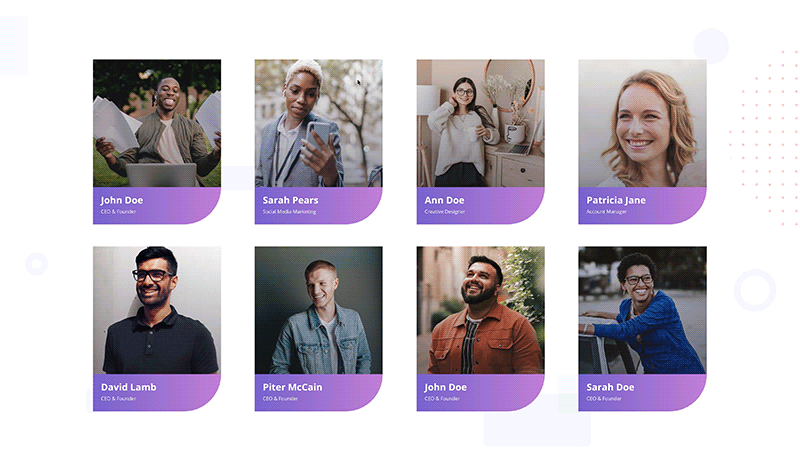 How to import Creative Team Members Section to Divi Library
The download package contains a .zip file, which has to be extracted before you can import it to your Divi website. Once you download and extract the file, you can import it to the Divi Library and use it on any page by adding a new section from the Divi Library.
Go to Divi → Divi Library
Click the Import/Export button located at the top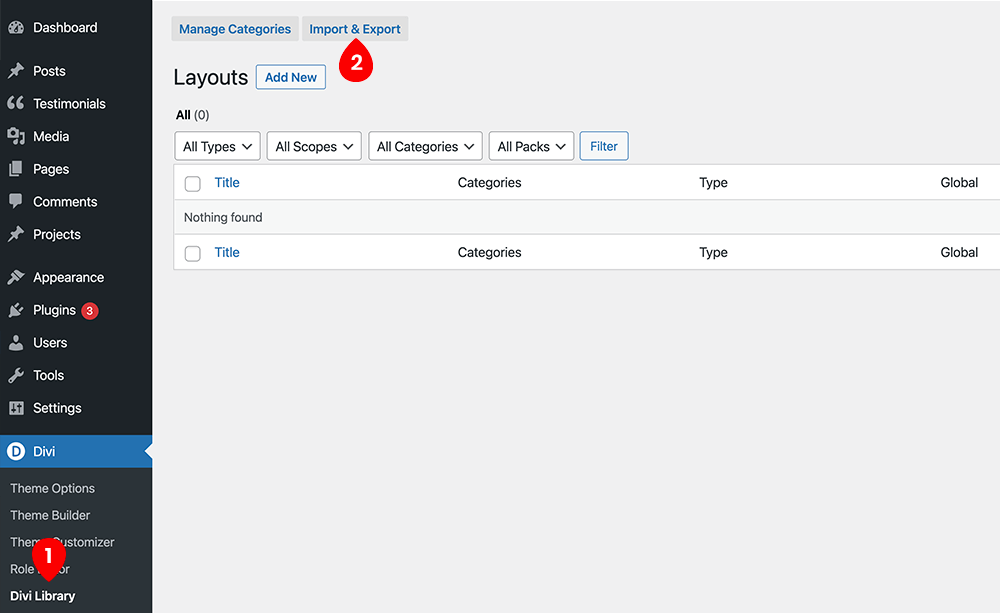 In the modal box select Import tab
Click Choose File and select Creative Team Members.json

Click Import Divi Builder Layouts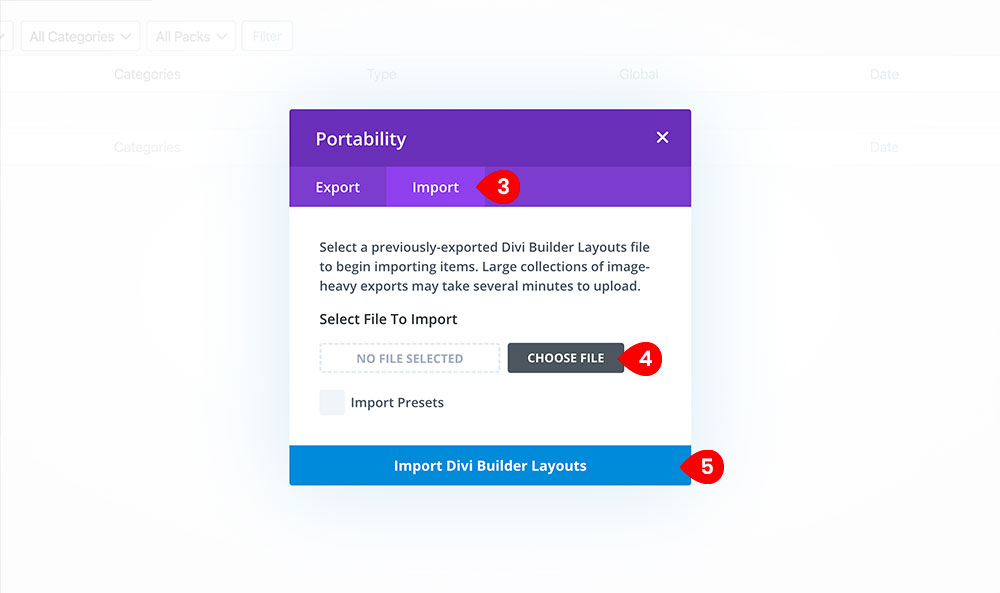 Add Creative Team Members Section to the Divi page
Go to Pages and open the page where you want to add the Team Members section
Click Add New Section button icon
In the modal window select Add From Library
Select Creative Team Members library item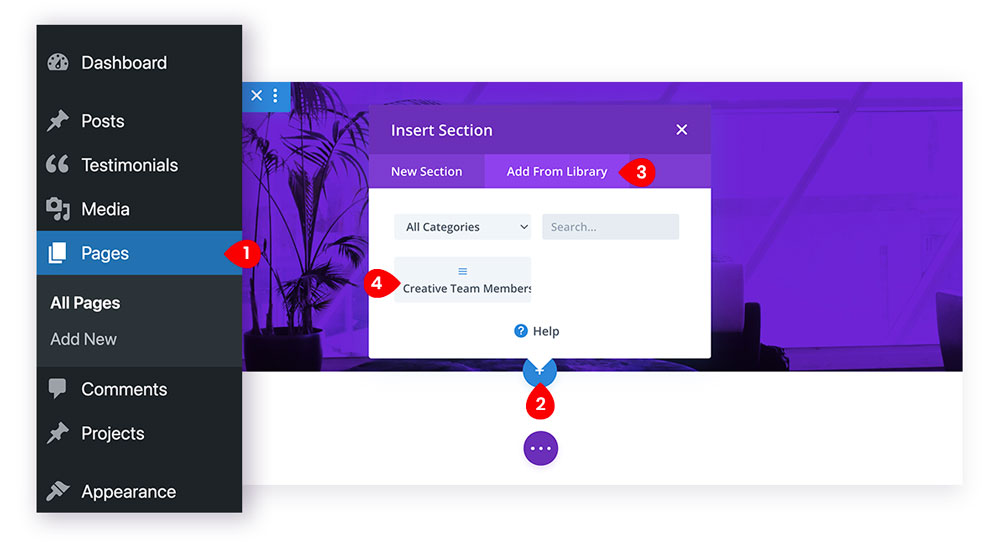 This is it! I hope you enjoy using this section on your Divi website and that it will help you display your company team members in a more beautiful and engaging way. If you enjoy this freebie, please let us know in the comments below 😉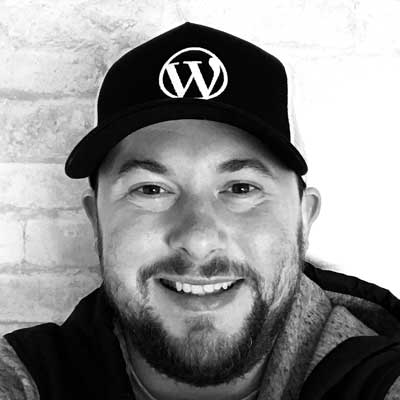 Maciej Ekstedt
Maciej is the co-founder of Divi Pixel. He is a self-made web designer and marketing expert, and he loves his job so much that he barely leaves the office. He transforms creative ideas into effective strategies for his company. Maciej is fascinated by the phenomenon of a megalopolis. He notices patterns and details which make up the whole thing, and he uses these skills in his work.
Enhance your Divi Theme with Custom Settings and New Modules. Start Creating Awesome Websites with the Divi Pixel
We offer a 14 Day Money Back Guarantee, so joining is Risk-Free!