Introducing Horizontal Timeline for Divi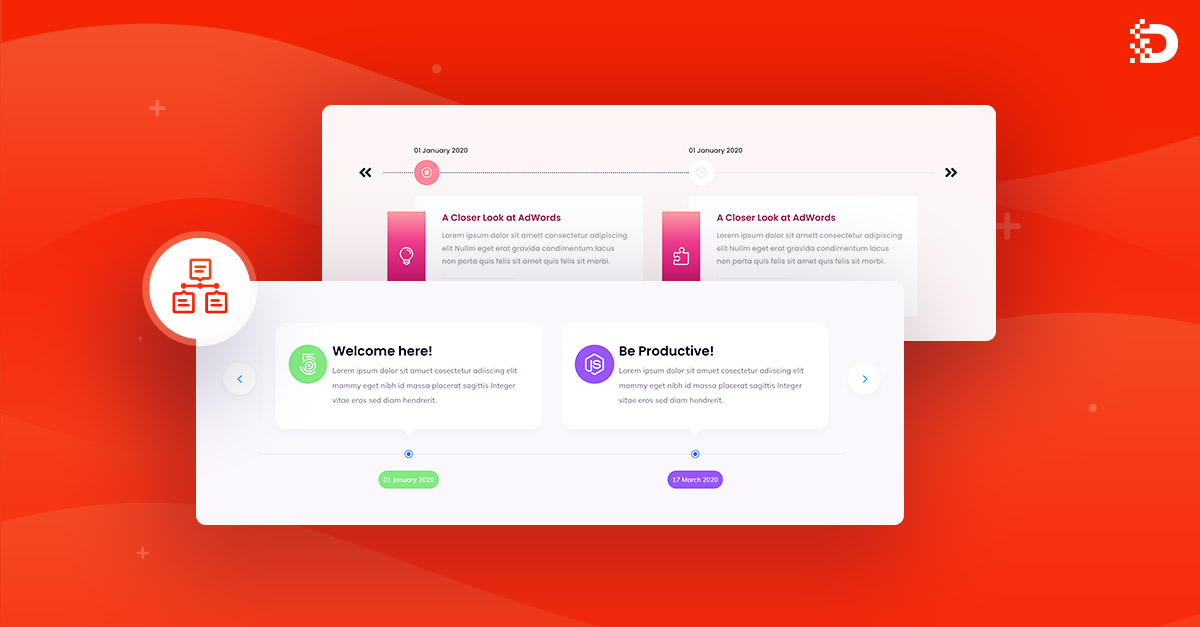 Today we are very excited and we have another great news. We have a new module for you. This time it is a Horizontal Timeline that will beautify your website and allow you to display your content on the timeline in the form of a carousel 🤩
In the previous release, we added the Advanced Tabs module, which you can learn more about here. In this update, we've added another 36th module to the Divi Pixel module collection, which continues to grow! In addition to the new module, we fixed a few issues and added some new options, which I will cover later in this article. If you are interested and would like to know more about the new module and the improvements we have made, read on.
Introducing Horizontal Timeline for Divi
The timeline is one of the best ways to display chronological events in a neat and accurate style. A timeline is the presentation of a chronological sequence of related events along a drawn line that enables the reader to quickly understand time-related or time-limited relationships. Timelines provide a logical, clear way to tell your story. You can use it on the About Us page to showcase highlights or tell your business story through dates, among other things. But it can also be used to showcase products, process steps, team members, and more.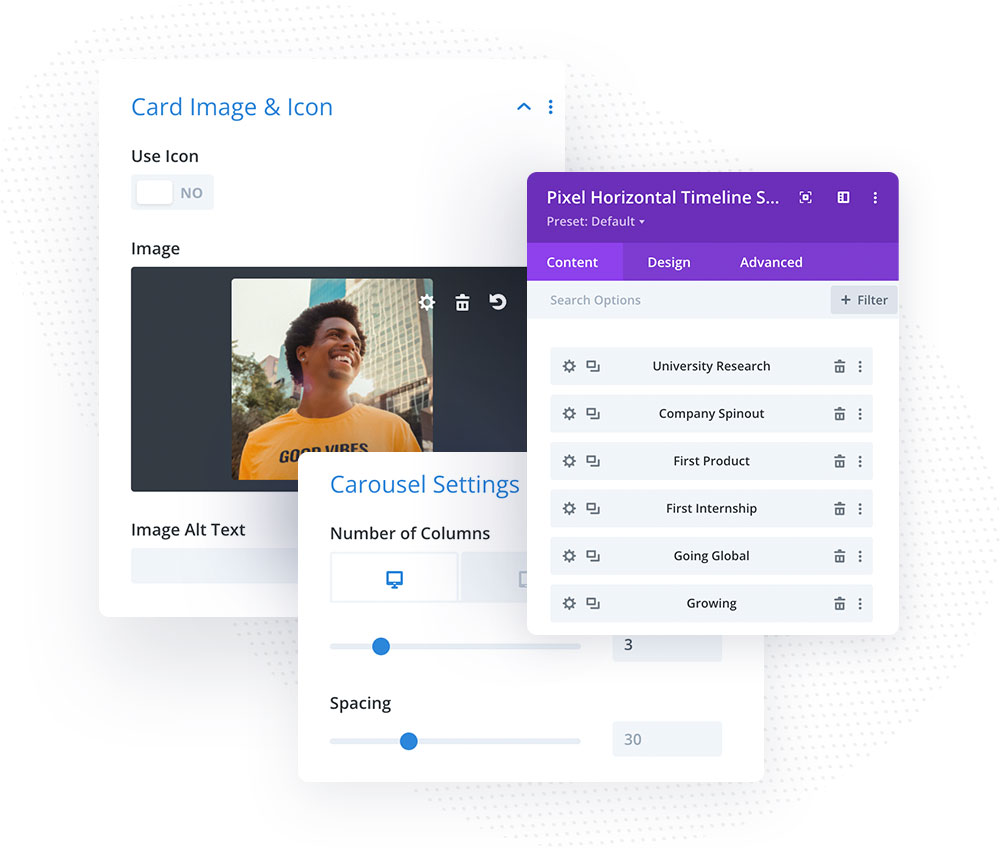 Add beautiful timelines to your Divi site
Divi Pixel already had a timeline, but it was a Vertical Timeline module. Due to the high demand for a carousel timeline, we decided to build this module and today we are giving it to you. This module has all the options needed to build a timeline and display the content in the form of a carousel. The module offers 3 layouts. We can display content above the timeline, below the timeline, or in a mixed layout.
We can add an unlimited number of cards to the module. We can add and customize timeline icons, ribbon text with date, title, description, icon/ image and button to each card. All elements can be customized using the options available in the module.
As with all Divi Pixel modules that offer a slider mode, we have several carousel options. We can add navigation, enable autoplay mode, set animation duration, define the number of columns and spacing, add pagination navigation, enable loop and more.
To streamline development, we've prepared 10 beautiful sections that you can download for free and instantly use on your Divi site. In the coming weeks, we'll be rolling out another set of 10 templates to help you build your web pages even faster with the Divi Pixel Horizontal Timeline module. In the examples we have prepared, we have tried to use all the options available in the module so that each example is unique and will leave your website visitors breathless.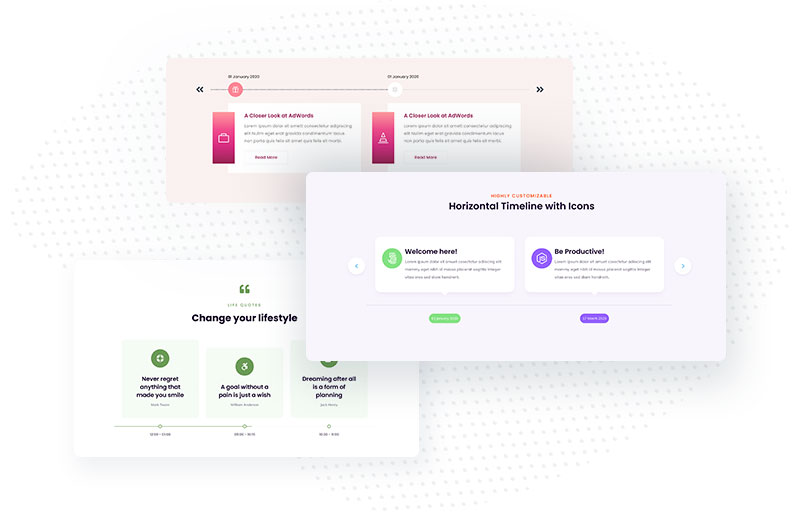 In this update, we have not only added a new module. We have fixed a few minor issues and made some cool improvements to the current modules that you are going to love.
Fixed Floating Images animations not working in Safari and iOS 15.4.1
The biggest problem you reported was the problem with the Floating Images module where images were not displayed in the Safari browser and on Apple mobile devices with the latest iOS 15.1.4.
Animate Lottie Icon in a viewport
You asked if it is possible to start animating a Lottie Icon once the user reaches viewport. In this update, we've added new options that allow you to set the view port value and add an animation delay.
Link customization settings added to FAQ module
It's a great idea to add additional links to the FAQ module entries. If a user is interested, or we want to send him or her to a page with more information on the topic, we can add a link to the FAQ module entry. In this version, we added new settings for customizing links so that we can easily change the color, font and style of the link.
Added reverse direction in the Info Circle module when the auto-rotate option is enabled
The Info Circle module allows us to auto-rotate the circle. We can set rotation angle, and duration and in this update, we also added an option to reverse animation direction, so we can easily create process steps with this module, and the animation will follow the step numbers added.
Add featured image to Scroll Image and set reveal effect
A nice improvement is a new option available in the Scroll Image module, where we can now add an image as an overlay, and reveal a scrolling image with a nice animation. This particularly allows us to add featured images for the Scroll Image module and set an animation effect that will activate after user mouseover and will reveal the entire scrolling image.
We have more great news for you, which we will inform you shortly about. The long-awaited Popup Maker is already in the testing phase and we are making the final tweaks.
We also built Expanding CTA module (like on the ET website – see video below), Instagram Feed (3 modules) and Text Highlighter. All these modules will be in your hands soon. There are also new amazing layout packs to be released, so stay tuned. You can also check our Plugin Roadmap to find out more. If you have any ideas for the new modules, please let us know in the comments below, or use our Feature Request form.
That's all for today. We hope you will like the new module and that it will open up new web design possibilities using the Divi Pixel plugin. We'd love to hear your voice. Share your opinion in the comments below 🙂 If you would like to connect with other users that are using the Divi Pixel plugin, join the Divi Pixel Community today! You are more than welcome!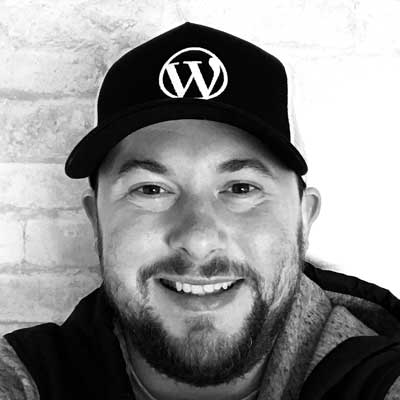 Maciej Ekstedt
Maciej is the co-founder of Divi Pixel. He is a self-made web designer and marketing expert, and he loves his job so much that he barely leaves the office. He transforms creative ideas into effective strategies for his company. Maciej is fascinated by the phenomenon of a megalopolis. He notices patterns and details which make up the whole thing, and he uses these skills in his work.
Enhance your Divi Theme with Custom Settings and New Modules. Start Creating Awesome Websites with the Divi Pixel
We offer a 14 Day Money Back Guarantee, so joining is Risk-Free!